Senior Spotlight: Alex Cahill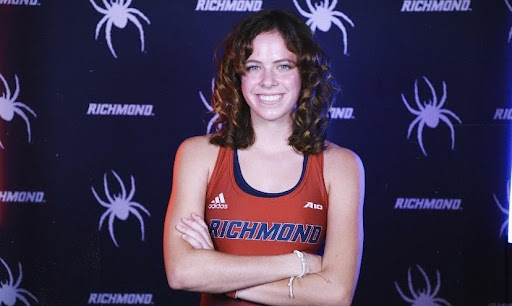 Alex Cahill is a well-rounded student-athlete who has truly made an impact on the Ramapo Winter and Spring Track and Field Teams. She developed a liking for the sport at an early age, where she discovered her natural talents at Ramapo's Tornado Track Camp in the third grade. She was also inspired to spark her track career by her older brother, a Ramapo track team alum and current member of the Bucknell University track team. Cahill began competing at Eisenhower Middle School and has been running on the Varsity Spring and Winter Track Teams for all four years of high school. She also competed unattached when Covid-19 hit because her high school season got cut short.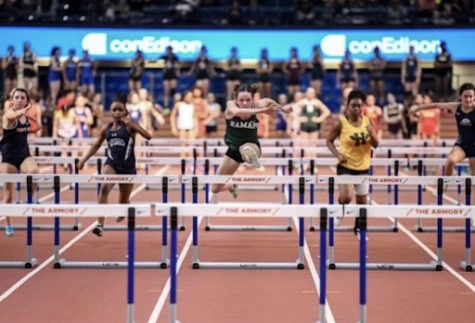 Cahill's main event is the short hurdles. Her indoor time in the 55mh is 8.41s, which was the second fastest time in Bergen County. She also anchors on the 4x100m relay, runs the open 55m and 100m, and participates in the horizontal jumps. Ultimately, Cahill is a very versatile track athlete who can be depended on to do any event when needed. In terms of awards and recognition, Cahill is a very successful runner. She won the Big North Championship title in the 55mh this winter. She also won first team all league and second team all county in the hurdles. 
Her coach, Mr. Manzo, discusses her strong suits as a runner: "Alexandra is a great student of her events and has an incredible work ethic, which made her our top hurdler these last four years and which made her such a great recruit for the University of Richmond. Alex has led by example in her events these past four years and we will be hard pressed to replace her after graduation."
In addition to Covid interrupting her freshman season, she has also faced adversity in other areas. She states, "I broke my arm freshman year right before Covid, which definitely made me scared to hurdle and I struggled with not holding back in my races for a while. Being assertive and not running safely is really important in the short hurdles, and it took me a while to finally get over my fear of falling." Despite these injuries, Cahill's determination and love for the sport has allowed her to get back on her feet and compete at the highest level of competition. 
Nex year, Cahill will be continuing her track career at the University of Richmond. Thus, her leadership and presence as a captain will be missed by the underclassmen. She wishes her teammates the best of luck next year and offers some advice: "I would definitely tell the underclassmen to just enjoy competing, and to not let nerves or negative thoughts get in the way of the results that they worked so hard for. Race day is supposed to be fun and exciting, not upsetting and nerve racking. Definitely utilize your coaches and communicate to them about anything you think is important to talk about regarding your performance and your training." 
Congratulations Alex for all of your hard work, and good luck next year at Richmond!