A Recap of the NCAA Women's March Madness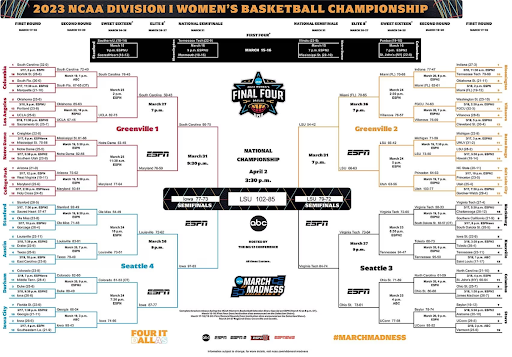 The NCAA Women's Basketball Tournament was truly a shocker to all those who watched. This record-breaking tournament presented rising basketball stars and double standards on the court. This had the highest attendance in history 231,777 (Forbes) and received amazing ratings for every game. The year of 2023 was revolutionary for all those who watched, and the female players on the court.
There were many upsets for the audience when watching the games. Stanford, the No. 1 seed for the tournament, was knocked out in the first round by No. 8 Ole Miss. The next day was no different. No. 1 Indiana was beaten by No.9 Miami with a score of 70-68 in the second round (Today). This theme continued as teams with a lower seed beat the teams expected to make it far.
The championship game was Iowa (No. 2) against LSU (No. 3). LSU ultimately defeated Iowa with a score of 102-85. This was their first title in tournament history. The 102 points are the most scored during a championship game, with the Tigers being the first to score over 100 points in the final (Fox Sports).
There were two players that were the stars of this tournament: Angel Reese and Caitlin Clark. It was the championship where the two began to battle it out, not just on the ball. Clark during their game against Louisville waved a hand in front of her face, a gesture created by John Cena called "You Can't See Me." Reese did the same during the championship, focused on Clark. Clark was not criticized when she did this, but for Reese, it was the opposite; it was a sign of racism. People turned to social media to point out this double standard, upset with the racist backlash Reese received after the game (npr).
Regarding statistics, Clark was named 2023 Player of the Year and broke collective records during the tournament; she totaled 191 points, which is the highest number of points scored by any man or woman during the tournament in history. She was the player to watch. She had back to back 40 point games, a triple double, and another 41 points (4WWL).
"I'm all about growing the women's game," says Clark, "and I'm glad I've given something that little girls can scream about at the top of their lungs. I can imagine when I was younger, I was doing the exact same thing watching on TV. It's pretty fun" (Hawk Central).
Overall, the Women's NCAA March Madness Basketball Tournament was truly a fun and great watch for all of those who love the sport. With all of the successes that came with this year, who knows what's to come for the future of women's basketball?