College Football Fanatics Look Forward to a Fun Playoffs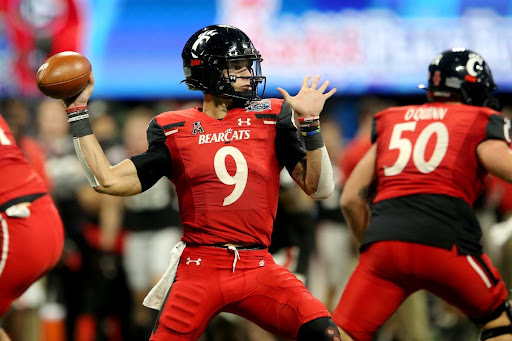 The Sunday tradition for an astounding amount of American individuals, male and female, old and young, republican and democrat of laying yourself in front of the television and indulging in the magic of the game of football has found its way seeping into Saturdays with the past decade favoring the young students of America's universities representing their school on the gridiron. College football, in addition to college basketball, baseball, and soccer, has seen a huge spike, especially recently with the revision of the NIL (Name, Image, and Likeness) Rules allowing athletes to collect monetary gain through their performance-based fame. If you were to ask a random sports fan what their favorite NFL team is, the result would be just as many team names as the phrase "I actually only watch college football." It seems as though the sports eyes of the nation have landed their gaze on the student world. As if college students didn't have enough stress and expectations forced on them that they needed to add the weight of a fan-base filled with passionate and gambling stakeholders. 
But nonetheless we continue to watch College Football for its obvious reasons: the determination of its athletes, the pure sport displayed, and the easy to follow and lovable nature of the organizations involved. 
Which brings us to the analysis of the upcoming tournament for the beloved NCAA football world. 
Among the football powerhouses that arise prior to the playoffs begins, comes a stranger. There is often little change year to year with the emergence of schools like Alabama, Oklahoma, Michigan, and Ohio State, expected to bring home the trophy. However, this year has proven very different with The University of Cincinnati finding its way to the #4 spot in the rankings. Most of the NCAA football powerhouses that end up in the playoffs are from one of the Power 5 conferences (Big 10, Big 12, ACC, SEC, and PAC 12) but Cincinnati runs to the top of the standings representing the much smaller and less popular American Conference, despite having just accepted an invitation to the Big 12 Conference for the near future. The way College Football works, is that only the top four schools enter the playoffs for the chance to win it all, and right now, Cincinnati finds itself just squeaking into that criteria just outside the chopping block. Around Ramapo, the sports fans certainly seem to notice. "It's going to be exciting to see how far they can take it this year. It's definitely going to be an underdog season," says anonymous Ramapo Junior. It certainly will be fun to watch, and I can assure you that all NCAA fans will be eager to observe the outcome and potentially history, as Cincinnati continues this journey.