Hey Battah Battah Sahwing Battah Battah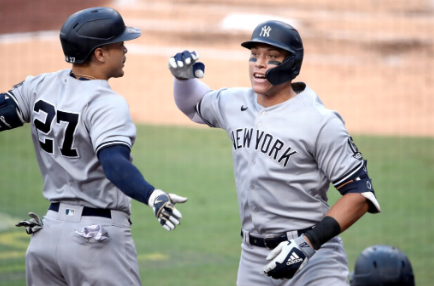 The MLB season of 2020 was hit hard by the COVID-19 pandemic and pushed back the start of the season by four months. Owing to health and safety regulations, the traditional 162-game season was reduced to 60 games, and teams played in empty ballparks. Because of the impact on the 2020 season, fans questioned whether the 2021 season would be any different (MLB). 
On April first, the first day of the 2021 season, 26 of the 30 teams took the field, resulting in an action-packed day of baseball that featured a variety of exciting moments. The Red Sox and Orioles were two teams that were rained out but started their seasons on April 2. The Nationals and Mets' first-round series had been postponed due to positive COVID-19 tests (MLB). Due to the risk of COVID exposure in the MLB, safety precautions and regulations were made to protect the players. 
The universal designated hitter rule that debuted last year looks to be out for 2021. As a result, the DH will only be used in AL, American League, ballparks and pitchers will resume hitting in NL, National League, ballparks. Arizona's Madison Bumgarner, a most prolific hitter of his generation, hit a long double on Opening Day. In addition, two other guidelines that were introduced in 2020 to reduce time spent at the ballpark will be reinstated in 2021. First, seven-inning games will be seen in doubleheaders once again. Additionally, MLB's extra-innings rule has been reinstated, which means that starting in the 10th inning, a runner will be put on second base to start each half-inning. Since expanding in 2020, the rosters now feature 26 players. In September, the roster size will grow to 28 players. There will be no limit on the number of pitchers on a team's roster. On all road trips, clubs can bring a "Taxi Squad" of up to five players to provide replacements in the event of injuries or COVID-related issues (MLB). 
Current MLB stats include Yermin Mercedes of the Chicago White Socks is leading the batting average stat with an average of .432. Byron Buxton of the Minnesota Twins leads with the most home runs in the season with 8 HR. Jesus Aguilar of the Miami Marlins leads in RBIs, Runs Batted In, with 22 RBI. Danny Duffy of the Kansas City Royals leads with an ERA of 0.39 (ESPN).