A Sight to See: March Madness 2021
March Madness 2021 was a little different this year due to the global pandemic; however, fans still showed their patriotism and the NCAA (National Collegiate Athletic Association) teams all brought their A – game for a fantastic series of matches. This year's tournament was a great source of entertainment for many sports fans, allowing for a sense of normalcy to be established during these dreadful times. Due to Covid-19, for the first time in history, the games took place in a single state rather than multiple locations across the nation. The championship game was played at Lucas Oil Stadium in Indianapolis, Indiana. 
In this single-elimination tournament, 68 teams entered and the number slowly dwindled until there were only eight teams left. The final eight teams included Houston, Oregon State, Baylor, Arkansas, Gonzaga, USC, UCLA, and Michigan. This bunch of teams consisted of squads ranging from the 1st seed (Gonzaga) to the 12th (Oregon State) and 11th seed (UCLA) ("NCAA Tournament 2021: Elite Eight Gambling Recap").  
As the championships came around the corner, there were a few nail biters and close games. For example, Gonzaga, the 1st seeded team was finally pushed to the test while they faced UCLA in the semifinals. The game went into overtime and with 3.3 seconds left, freshman Jalen Suggs scored a buzzer beater at half court to win the game for the Zags. Mark Few, coach of the Zags states, "We were lucky enough to hit a 50-footer…So it helps when you have a magican, special guy like Jalen, special at the end of games" (Rill). Most people did not think that an underdog team could defeat the number one seed; however, UCLA truly put up a fight, making the tournament more unpredictable and exciting to watch! Senior at Ramapo, Haley Schmidt says, "Although I am not typically one to watch basketball, this game was certainly entertaining and worth every minute. I can't wait to see next year's bracket!"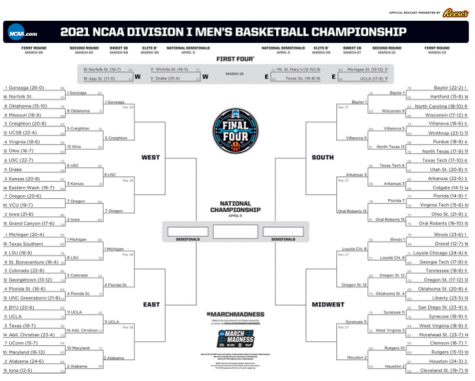 The final four teams who competed in the semi finals were UCLA vs. Gonzaga and Baylor vs. Houston, where Baylor completely dominated the game getting closer to reaching the national title. The final two teams left were Baylor and Gonzaga, two teams with outstanding records throughout the tournament. The Gonzaga bulldogs had a perfect season with 31 wins and no losses and the Baylor Bears had a 27-2 record. Both teams had little success in prior championship games during the NCAA tournaments over the years; however, this year would be different for the Bears. The Bears took the championship title with ease, with an 86 – 70 win over Gonzaga (ESPN). With a large lead over Gonzaga for the entirety of the game, the Bears swept their opponent off their feet. Making nearly half of their three pointers and having 38 total rebounds, Baylor impressed basketball fans across the country yet again with their tight defense and offense who constantly drove to the basket. Scott Drew, coach of Baylor states, "Every day you're grinding, and you don't really look back. You're pressing forward…but I'm so blessed to have these unbelievable players that bought into what we like to do with the program" (Rill).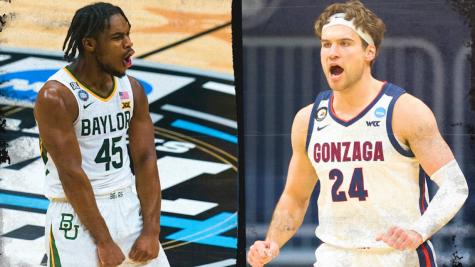 Overall, this years' tournament was filled with many unpredictable games with both blowouts and nail biters. It certainly was a site to see, and I am looking forward to seeing what happens next year and if the reigning champions can hold their position!