"Golden" by Harry Styles Music Video Review
On October 26, 2020, millions of people around the world watched former One Direction member Harry Styles run through a tunnel in an open white button-down shirt and drive along the Amalfi Coast of Italy in the newest music video for his song "Golden".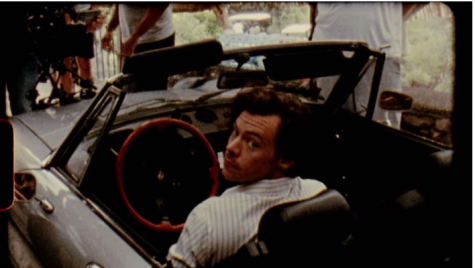 This video is the fifth video from his second studio album, Fine Line. In contrast to some of his other videos, such as "Lights Up", the video did not have a large cast and was solely focused on Styles, which may be a result of the current COVID pandemic. Within hours of release, the video had over a million views and was quick to be added to the Youtube trending videos list. The video has gotten an overall positive response from fans and critics alike. Ramapo sophomore Lauren Markarian said, "I love how the video was simple but enjoyable. Styles in different outfits running across an Italian landscape made me smile." 
Styles is known for his unique and exquisite fashion taste, which is heavily portrayed in the video and he changes clothes several times. Each outfit is unique and defies societal standards of what men should and should not wear. This has been a trend among his fashion choices, and it ended up becoming the center of social and political controversy. His recent cover of Vogue features him wearing a full-length Gucci ball gown, and Styles has received both compliments and backlash for his daring attire. In the interview with Vogue, he said, "..I think what's exciting about right now is you can wear what you like". What sparks more happiness in someone than being able to wear what you want and having self-confidence? Harry's fashion choices in the video add to his defiance of gender norms and contribute to the comfortable, confident, and unbothered feeling of the video.
Personally, I adore the baby blue Gucci suit and the delicate white gloves he paired with it. However, the internet seems to be infatuated with the golden yellow fisher's hat, pearl necklace (of course), and floral pants that give off such good vibes.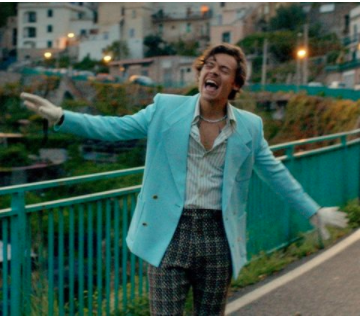 We also get to see Styles swimming in a small pool of water sporting some fantastic striped swim trunks, a blue beaded necklace, and one of the most iconic quarantine flows I've ever seen. In addition to the running, swimming, and driving, we see a whole lot of smiling. Throughout the whole video, Styles has a huge smile on his face that just makes you smile while watching him. 
The nature of the video matched Styles' public persona and I feel it encapsulates the essence of Mr. Styles. The video ends with Styles casually leaning on a car parked in the street, and waving to the people inside. Although this scene was random, it was just very Harry and it was the perfect time to showcase his signature painted nails and rings.
In an interview with Zane Lowe about Fine Line, he says the song "Golden" is like "…driving down the coast. That is what the song is for." We definitely got carefree, driving with the windows down vibes from the video, which probably was Styles' goal.
Not only did this video make me even more excited to get my driver's permit in June, but it also made me want to pack up everything and move to Italy! I wish I could feel as free and happy as Styles did in this video. 
Indian Hills sophomore Tahlia Frenkel said, "I love the golden music video because it shows how being yourself can be so freeing. It makes me feel excited knowing that whoever I end up being is who I'm meant to be." Styles' music video provides a safe environment for people to feel confident in who they are and who they want to be. 
In the midst of this unprecedented and scary time, we all need a little bit of golden sunshine and good vibes in our lives. The "Golden" music video is just what everyone needed to be brought back to a time of serenity and joy for a short, but blissful, three and a half minutes. Even if you're not a fan of Harry Styles, this video will bring back those lost memories of summer and happiness.