Murder and Mystery . . . Way Out Yonder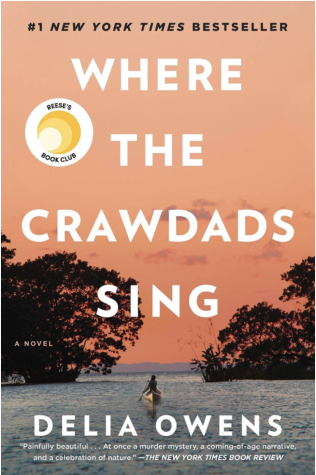 "Go as far as you can — way out yonder where the crawdads sing" (Owens 111).
How do you trust a world that has done so much to break you?  Beautifully written, the coming-of-age novel, Where the Crawdads Sing by Delia Owens, follows the tragic life of Kya Clark from 1952 to 2016.  After her mother, father, and siblings abandon her to a lonely life in her small shack, the marsh and its creatures become Kya's family.  As Kya copes with the difficulties of childhood, puberty, and adulthood, she learns about love and the cost of opening her heart after so many years of pain.  To make matters worse, when the town's golden boy, Chase Andrews, turns up dead in the marsh, the residents of Barkley Cove, North Carolina immediately blame Kya, the infamous "Marsh Girl".  Alternating between two different story arcs, Where the Crawdads Sing is an original take on a murder investigation and a brilliant account of a child's life of isolation.  The two plots eventually intertwine in a powerful courtroom drama.
With the purpose of showing people the truth behind human nature, Owens succeeds in revealing the passion, strength, and savagery of the human race.  In writing Where the Crawdads Sing, Owens also aims to communicate the effects of loneliness.  Humans are not made to walk through life alone and doing so changes a person.
Kya Clark is an astonishingly well-developed and authentic character.  With curiosity, apprehension, and a yearning for human connections, Kya perfectly portrays the complexities of human beings.  The strength of this young woman is also incredible to behold.  Despite her fear of the real world and its inhabitants, Kya takes a stand as a fierce, intelligent woman with the ability to defend her beliefs, herself, and her loved ones.  Kya's life of solitude adds another fascinating layer to the already intricate character.  Kya's capacity for overcoming challenges renders her a wonderful role model for young women.
Where the Crawdads Sing also explores the issues of trust and betrayal.  Whether it's gentle and kind Tate Walker or charming and insolent Chase Andrews, Kya struggles to put her faith in others.  Accustomed to the isolation and quiet of the wilderness, Kya is extraordinarily unfamiliar with navigating the twists and turns of real relationships.  Owens does an excellent job displaying the intricacies of love, friendship, and desire.
Authentic to the times, prejudice is also a prevalent theme seen throughout the novel.  All her life, Kya has been the victim of derogatory insults and abuse due to her socioeconomic standing in Barkley Cove.  As a result, Kya befriends Jumpin' and his wife Mabel, who are members of the town's African American population.  The three soon develop a strong familial bond which is remarkable to behold.  Sometimes, friendship is more powerful than blood.
Before Where the Crawdads Sing, Owens co-authored three non-fiction works with her husband, detailing their adventures in the wilds of Africa.  Published in August 2018, Owens's unprecedented debut novel was an immediate hit, deserving of five out of five stars; Where the Crawdads Sing was on the New York Times Best Sellers list for over thirty-two nonconsecutive weeks.  Reese Witherspoon has also added the novel to her book club, Hello Sunshine, and plans to make it into a major motion picture.
Fans of Kristin Hannah's The Great Alone and Lisa Wingate's Before We Were Yours will love Where the Crawdads Sing.  Where the Crawdads Sing flourishes among nature and poetry lovers, as well as those who enjoy romance, mystery, and vivid imagery.  Where the Crawdad's Sing is also suitable for both teenagers and adults, as well as advanced readers.  As Mrs. Ferro, Ramapo's librarian, said in an interview, "[…] the overall story is one that will keep your interest. My advice is the book is worth the read!"
Intent on providing an emotional journey from childhood to adulthood, Delia Owens captures the reader's heart through the mesmerizing life of Kya Clark.  An intriguing tale of murder, love, truth, and isolation, Where the Crawdads Sing is an unforgettable narrative with an unexpected twist.  Able to make you laugh and cry all at once, this novel is a thoroughly satisfying must-read.