Will Winter Sports Take Place?
Since March, people all over the world have been under various limitations due to the vast spread of COVID-19. For months that seemed like years, our day-to-day lives have transformed in ways unimaginable. From social distancing to wearing face masks in stores, we've grown accustomed to this new lifestyle. And accordingly, here at Ramapo, after reopening in late September, students, teachers, and faculty have adjusted to a new hybrid schedule designed to prevent the spread of this epidemic. However, as sports began, more cases also sprang up throughout the school. 
As reported on various news channels, COVID rates have once again risen to dangerous percentiles. According to the Department of Health, during these past few months, over 6,000 cases have emerged in New Jersey alone. As a result, fall sports have been cut short, leaving athletes devastated as state championships along with lifelong memories have slipped from their fingertips. Numerous seniors and competitors are now wondering, could COVID cancel their seasons before they even begin?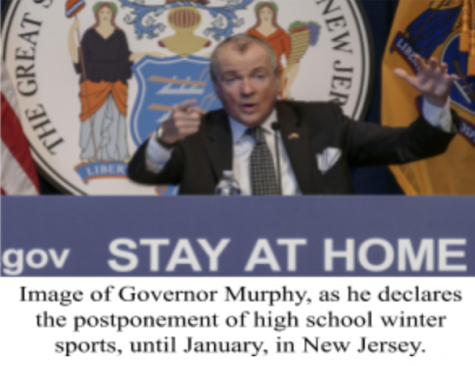 Commonly known, winter sports generally begin in late November and may even continue through early March. However, according to the NCSA, all winter seasons are to begin in January and conclude in late February of 2021. Governor Murphy has even announced the cancellation of any pre-season training, practices, or scrimmages. As many winter teams commenced training in preparation for the upcoming 2020 winter season ahead, the aforementioned news led to outrage amongst high school competitors. Coach Sandy Gordon of the Girl's Ramapo Basketball team explains, "While I'm personally disappointed, I'm praying that we have some sort of season. Kids need sports for their mental health." After suffering the effects of quarantine for months, people are seeking a returning sense of regularity. The desire for a return of swim meets and football championships at Met-Life Stadium persists, along with a nostalgia for normalcy. 
As of now, athletes and coaches throughout New Jersey await more news regarding their seasons. The postponement and cancellation of pre-season events remain; however, while COVID cases continue to increase at cutting rates, the question of whether schools will continue to hold sports events along with extracurricular activities ensues.