Gold Masque's FABULOUS First Ever Virtual Production: Clue!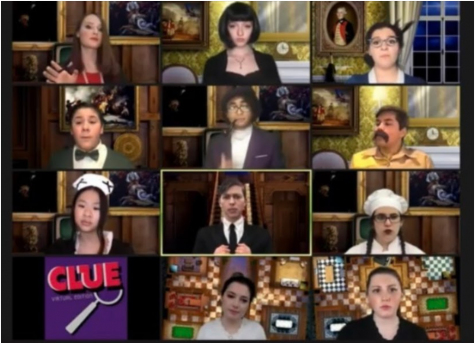 For the past couple of months, I had the extreme honor and amazing experience of performing in Gold Masque's virtual play, Clue! The coronavirus has basically made live theater impossible, causing theater directors to get creative with their productions this year. However, Gold Masque definitely did not disappoint! Although it was not a traditional theater experience, the audience still felt immersed in the storyline, characters, and felt as if they were actually there! Ramapo junior Wyatt Walloga said, "Everyone on the Gold Masque team did such a great job! When I watched it, you could have convinced me that Clue was always meant to be performed over Zoom! It was so natural and enjoyable to watch. Also, every character was very well casted." The production had amazing intricate details such as multiple custom green screen backgrounds of the rooms, ring lights, detailed costumes/props, and an amazing sound system. At times, the audience forgot the actors weren't actually in the same rooms!
This production could never have been possible without our amazing director Mr. Spence and the extremely helpful crew of Clue! Mr. Spence shared what it was like planning Clue: "Mr. Nemeth and I knew that cancelling another show was not a realistic possibility. Our students deserved their time to shine, so we doubled down and committed to producing a show that would be different but fulfilling to the students. We chose to look at this fall as an opportunity to expose the students to theatre in a new medium and ignore the countless obstacles that could arise. The incredible cast members have worked tirelessly to make this production memorable and fun. Watching these young artists explore and create really makes the job of director that much more rewarding. Because of what the students create, you are about to enjoy true theatre—not educational theatre but true, professional theatre. I hope that our students will carry this show with them as a reminder that anything is possible with hard work." 
Participating in theater this fall season was such a fun and memorable experience truly like no other! Everyone in the cast and crew of Clue is incredibly grateful to Mr. Spence and Mr. Nemeth for not giving up on us thespians and finding a way for us to perform! Here is how Ramapo junior Caitlin Berenson, Gold Masque's spectacular stage manager, felt about this unique production: "I definitely was unsure of what to expect going into a virtual play, but in the end, everything worked out perfectly! It's better than I ever thought it would be. Gold Masque is like a family. I'm so proud of all the cast and crew for their hard work!" Caitlin has put in so much hard work to make this production amazing, along with many other crew members! 
Ultimately, being a part of Clue is an invaluable experience I will carry with me forever. It was a joy to be a part of a show as iconic as Clue. Despite the rehearsals being on Zoom, it always felt we were all there in person. Every cast and crew member was extremely kind and welcoming. Mr. Spence always had amazing feedback for us performers to incorporate into our acting. After school everyday, I always looked forward to going to rehearsal! Everyone was so lighthearted and supportive of one another. It was truly an amazing atmosphere! To conclude this article, I see no better way than to finish it off than with Colonel Mustard's iconic line, "Apple pie!"