The RIH District is Moving (FLOW) Forward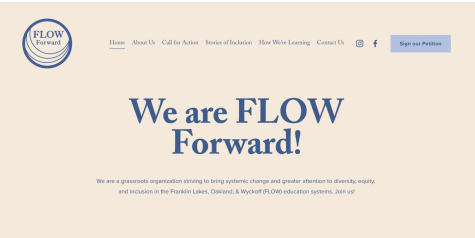 FLOW Forward has been a prominent name at Ramapo in recent months, whether that be from their informational videos shown in classes or their speeches at recent Board of Education meetings. But with the arrival of this new grassroots movement comes the question of who they are and what they stand for. FLOW Forward is a student, alumni, and community stakeholder led movement striving to bring awareness and systemic change to the FLOW education systems. They have already brought some change, but they continue to demand reform to create a district in which minority students can feel included and safe. 
FLOW Forward plans on making the FLOW education systems a safer space through their "Call for Action" which includes hiring a diversity consultant, encouraging a zero-tolerance policy for faculty and staff, expanding the history curriculum on minority groups, and more. Their full "Call for Action" proposal can be found on their Instagram (@FLOW__Forward) or their website (flow-forward.org). Lia DiLisio, a current Ramapo junior involved with FLOW Forward, says this about her role: "I am a member of the Ramapo and Franklin Lakes outreach committees. This means that I create and sustain relationships with stakeholders from these communities. Our outreach committees meet with teachers and students, create programs for learning and discussion, and advocate for policy change." Lia has met with over 20 teachers between Ramapo and Franklin Lakes so far and continues to work hard to promote inclusivity. FLOW Forward also has an installment of "Stories of Inclusion" where they highlight the injustices minority students face in everyday life in the FLOW education system. They not only speak on racism within the FLOW district but also on antisemitism, homophobia, and countless other topics. 
FLOW Forward recently held a webinar with the Cultural Diversity Awareness Club on conversations about inclusion, awareness, and allyship on December 10th and spoke at the Board of Education meeting on December 14th. You can get involved by following them on Instagram, signing their petition on their website (which now has 600+ signatures), and attending virtual events that they host or speak at. FLOW Forward continues to post resources to stress the importance of inclusivity and have much more planned for the future.