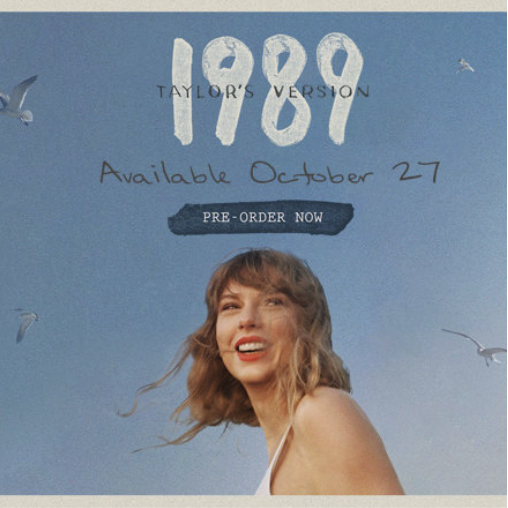 Taylor Swift has always been a hot topic of conversation, and nothing has changed. From the announcement of her new album to the gossip about her with football player, Travis Kelce, she continues to be the person that everyone is focused on. 
1989 (Taylor's Version) was recently announced during her Eras tour. This date is exactly nine years after the release of the initial 1989 album (Forbes). Swift explains that the original album "changed [her] life in countless ways, and it fills [her] with excitement to announce that [her] version of it will be out October 27." She adds that 1989 was her "most FAVORITE rerecord that [she's] ever done." What does "Taylor's Version" mean? Well, it was an attempt made by Swift, starting with the album, Fearless, to reclaim her artistic ownership (USA Today). With 1989 being such a major success for her, there is no doubt that this new version will be just as, if not more, successful with songs like "Shake it Off" and "Style."
"I am so excited," says junior Toni Anne Malonzo. "1989 was so great, and I'm sure this one will be the same. I am always dying to hear more music from her."
During the week of September 18, she challenged her fans to a scavenger hunt. They had to unscramble dozens of word clues on Google, and if they could complete 33 of these puzzles, they would discover the vault tracks on her upcoming album. For those who do not know, "vault tracks" are songs that were scrapped from the original release of an album. The fans were expectedly able to complete this challenge, and five vault songs were revealed: "Is It Over Now?," "Now That We Don't Talk," "Say Don't Go," "Suburban Legends," and a song that the fans had to decode. The letters were "T-S-!-U-L," and fans have been using past rumors made during the release of her original album to guess the song, but nothing has been confirmed (Today).  
Perhaps even more compelling than the release of the album is Swift's new romance with  Travis Kelce, a talented tight-end for the Kansas City Chiefs. Taylor Swift showed up at the game between the Chiefs and the Chicago Bears on September 24, and she then appeared a week later at the game against the New York Jets. She was ecstatic  each time the Chiefs scored a touchdown. When the Chiefs scored, all cameras immediately panned to her cheering with those around her (Washington Post). The couple has been seen demonstrating affection in public, just furthering the rumor. Although nothing has been confirmed, every Swiftie believes that she has found another man. 
This is not the end for Taylor Swift. Her fanbase, and even those who do not listen to her as often, will undoubtedly hear more news about her in the future. She will always be the talk of the town, and that will definitely never cease.