Class of 2023 Valedictorian: James Wong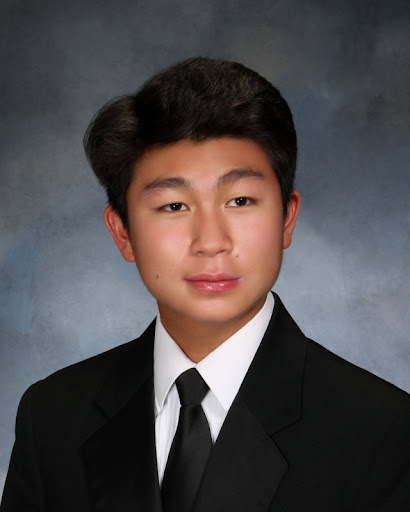 As another great school year comes to a close, it is time to congratulate James Wong for his impressive accomplishment of becoming Ramapo's Class of 2023 Valedictorian. Such a feat can only be achieved through years of hard work and dedication, and Wong rightfully deserves the success he experienced at Ramapo and will continue to experience in the future. 
At Ramapo, not only has Wong consistently appeared on the Superintendent's List, but he also actively engages in the school's community through many extracurricular activities. "I wanted to do well in high school to be able to go to a college where I know I can have the best opportunities to excel in my choice of major," Wong explains. He is a varsity tennis team member with the second doubles position. He is also involved in the varsity marching band and jazz band, where he plays the tenor saxophone. This year, Wong became a senior ambassador, helping freshmen ease into the transition from attending middle school to high school. As an active member of the National Honors Society, Wong gives back to the local community through volunteer work. Furthermore, his hard work in class has resulted in him becoming an AP Scholar with Distinction. 
Outside of school, Wong has traveled to Chengdu, China to volunteer at a Panda Conservation Center and to Peru to plant trees in order to reforest barren terrain. Wong has also volunteered at the biggest no-kill animal shelter in Utah and participated in clean-ups with the Hackensack Riverkeeper organization. Wong is certified to keep bees after taking a beekeeping course in his junior year. AP Biology teacher Mrs. Angerson praises Wong's dedication to conserving the environment: "Challenging environmental problems need a multipotentialite like James working on them."
When reflecting back on his time as Ramapo, one of Wong's favorite classes is Intro to Culinary Arts. This was partly because it gave him a break from the rigorous coursework he was used to and partly because, according to Wong, "You get to eat a variety of foods from different cultures." One of his favorite memories at Ramapo is the band trip to Disneyland in California during his senior year. "Having the opportunity to explore Disneyland with my friends and fellow band members was an unforgettable experience," he elaborates.
Upon hearing Wong was Valedictorian, senior Sebastian Dash says "Having been good friends with James since before high school, I know that James' title as valedictorian has been achieved through his hard work and dedication to academic excellence and I couldn't be happier for him." Mrs. Angerson adds, "James Wong, or as we like to refer to him in AP Biology, 'J-Dubz,' is a truly modest recipient of this well-deserved honor. I think his most salient quality is his wanting to know for the sake of knowing and this definitely makes him a standout in his class. He has a great sense of humor and loves to joke around, but can just as easily throw out multisyllabic SAT words you've never heard before." Similarly, Ms. Lawson, Wong's guidance counselor, states, "James is a humble individual with a genuine dedication to making a positive contribution." 
As a freshman in college, Wong plans to attend Boston University and then transfer to Cornell University during his sophomore year. He will major in environmental studies and possibly minor in entomology, which is the study of insects. "Insects are the closest we have to otherworldly beings," James states. "When you think about other organisms you think of bipedal and quadrupedal but for insects you've got six legs, and you can have antennae and compound eyes that are almost alien-like." 
Ramapo would like to congratulate James again for becoming this year's valedictorian. We wish him all the best and we know that with his current work ethic, there is nothing he cannot accomplish in his future.