Aljamain Sterling Re-Claims Bantamweight Title in UFC 288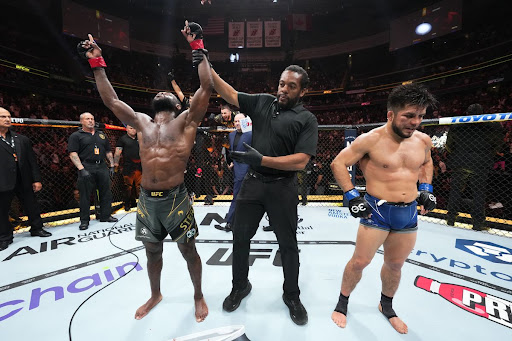 On Saturday May 6th, Aljamain's dominant reign as the bantamweight champion continued through UFC 288. Cejudo faced Aljamain Sterling in a highly anticipated showdown that left fans on the edge of their seats. After a grueling five-round battle, Sterling emerged as the winner, defending the bantamweight title by a split decision.
Sterling's victory over Cejudo was nothing short of impressive. Throughout the fight, he showcased his exceptional grappling and takedown defense skills against an opponent who primarily depends on his wrestling ability. Cejudo became the youngest Olympic Gold Medalist Wrestler when he won the 2008 Summer Olympics at age 21, which makes Sterling's performance even more impressive (Yahoo). 
Aljamain Sterling defending the bantamweight belt in UFC 288 against Henry Cedjudo in a split decision (MMA Fighting)
The match was incredibly close, with both fighters displaying their strengths and tactical prowess. Ultimately, the judges' decision reflected Sterling's outstanding performance, as he secured the win and claimed the coveted bantamweight belt. Two of the judges scored the fight 48-47 in Sterling's favor while the third scored the fight at 48-47 in Cejudo's favor. Physics teacher Mr Tuohy shared, "I thought this card (UFC lineup) was kind of weak, but the Cejudo Fight was awesome, I had no clue who was going to win when they announced the split decision."
Following his historic victory, Sterling's moment in the spotlight was interrupted by an unexpected appearance. Sean O'Malley, also known as "Suga Sean," jumped on stage and called out Sterling, challenging him for the title in UFC 292. O'Malley's bold move sent shockwaves through the MMA community, stirring up excitement and speculation about a potential clash between the two talented fighters.
O'Malley's call-out to Sterling signifies his ambition to become the new bantamweight champion. Known for his flashy style and knockout power, O'Malley has gained a considerable following and has quickly become a fan favorite. By challenging Sterling, he aims to prove that he is ready to compete at the highest level and take the division by storm. Joe Capozzi, a junior from Ramapo, stated, "I hope Aljo (Aljamain Sterling) gets the win. O'Malley is way too cocky in my opinion and can't compete on the ground."
If the fight between Sterling and O'Malley materializes in UFC 292, it promises to be an electrifying matchup. Both fighters possess exceptional skills and bring unique styles to the octagon. Sterling's grappling expertise and well-rounded game will clash with O'Malley's striking prowess and unorthodox techniques, creating a compelling contest for the bantamweight title (ESPN).
As fans eagerly await the official announcement of UFC 292 and the potential showdown between Sterling and O'Malley, the bantamweight division has been injected with a renewed sense of excitement. While Sterling basks in the glory of his hard-fought victory over Cejudo, O'Malley's challenge adds an intriguing subplot to the division's narrative. O'Malley has been awaiting his title shot for quite some time, so it will definitely be an interesting match.
Sources:
https://www.espn.com/mma/story/_/id/37468609/ufc-288-live-results-analysis-aljamain-sterling-vs-henry-cejudo
https://sports.yahoo.com/aljamain-sterling-not-stressing-over-210035800.html#:~:text=MORRISTOWN%2C%20N.J.%20%E2%80%93%20With%20two%20title,might%20just%20further%20that%20Saturday. 
https://www.mmafighting.com/2023/5/7/23714222/aljamain-sterling-vs-henry-cejudo-official-ufc-288-scorecard