High Schooler Beats Noah Lyles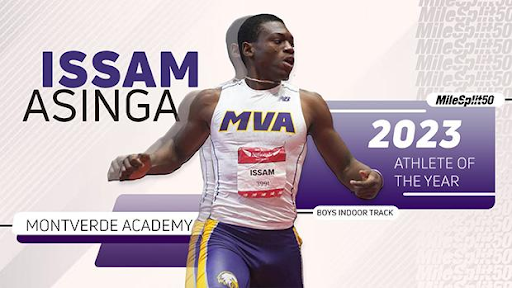 At the PURE Athletics Invitational, higherschooler Issam Asinga, set a remarkable time in the 100m dash of 9.86 seconds. The 18- year-old left track and field fans in shock after his outstanding performance in this event. On April 23rd in Clermont Florida, the teenager beat the world champion Noah Lyles in this race. Asinga ran sub 10 seconds two times that day, both in the prelims and in the finals. He had been the first U.S high school athlete to run these times in wind conditions of +4.1m/s (Goss). Asinga's coach, Geral Phiri, remarked on his successes: "I think anytime you have a chance to go up against a reigning World Champion it's an incredible opportunity…Issam displayed a great level of composure and maturity. From a technical standpoint I was not happy with his transition but overall a spectacular performance" (Binder). 
Noah Lyles remarks that it is certain they will face off again in the "big stages.". After making history by running three sub 10 second 100m races, he shocked the world by showing his speed in the 200m as well. He clocked in at 19.96s, breaking Noah Lyles highschool record by .12s. Asinga is signed to run next year at Texas A&M University; however, he has the eligibility to go pro. His goal is to compete at the World Championships trials in Eugene, Oregon, and be one of the top three runners to qualify to run in the finals. Issam states, "We're going for the World Championships. That's always been the goal – we're going for that. I'm ready to go out there for Budapest and do my thing" (McCarvel). While the highschooler will have to face some difficult competition, his early success proves that his goals are achievable. 
Ramapo track athlete Briana Braver remarks, "His times as a highschooler are very impressive. I am excited to see what other records he accomplishes in the future." 
Similarly, Ramapo teacher Mr. Castano shares his thoughts on this performance: "This is an amazing story that a high schooler could beat a professional runner. It shows that if you put your mind to something, then any dream is possible. Sometimes people may say something is impossible, but it is important to never listen to the negativity." 
Only time will tell how far his talents will take him. We may be looking at a future olympian and possibly even a world record holder. 
Sources: 
https://world-track.org/2023/04/teenage-sprinter-issam-asinga-runs-windy-9-83-beats-noah-lyles-in-clermont/
https://www.runnerspace.com/gprofile.php?mgroup_id=44531&do=news&news_id=660245
https://olympics.com/en/news/athletics-issam-asinga-usa-high-school-sprint-sensation