3 Dead as Tornadoes Strike Oklahoma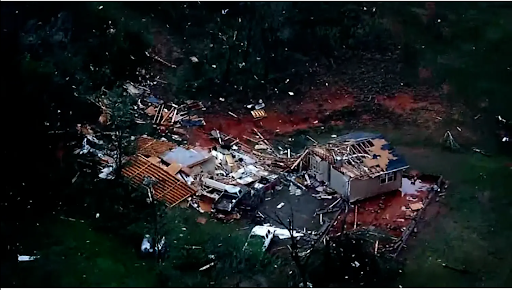 On Wednesday, April 19, 2023, a deadly Tornado struck the state of Oklahoma. According to NBC, the McClain County Sheriff's Office confirmed three deaths, and there are reports of injuries and people trapped in their shelters.
The majority of the tornadoes hit the town of Cole, Oklahoma. The New York Times reported that residents were told to take shelter immediately  Wednesday evening. The county's emergency management agency told residents at 7:39 pm that a dangerous tornado was over the town. The tornado that hit Cole was rated an EF3 with peak winds between 150 and 155 mph, the National Weather Service in Norman told The New York Times on Thursday after conducting storm damage surveys. Helicopter videos from NBC showed destroyed homes throughout the town.
The University of Oklahoma, located in Norman, told all students to seek immediate shelter and to stay away from windows as the dangerous storms approached. Ramapo senior Ava McCann commented that she "wouldn't know what to do if Ramapo had a natural emergency threat in the middle of class." She went on to remark that "we are lucky to live in an area where tornadoes and other natural disasters are not common." To add on, Mr. VanderMolen talked about the role of national organizations in aiding the relief efforts and said that "this is a time when FEMA and all of our national organizations are really put in use."
There are numerous relief organizations and campaigns working towards providing relief for the victims.