April: Poetry's Spotlight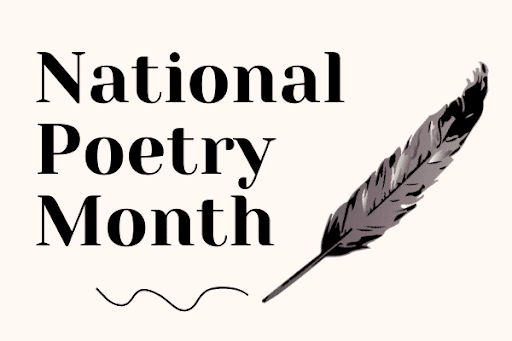 From celebrated authors to 16th-century religious leaders to angsty teens, poetry is the universal language of expression. The lack of subjugation and law yields pursuing the innate desire for freedom of self and deciphering of the world around us. Due to this significant role poetry has had throughout history, in 1996, The Academy of American Poets declared April to be National Poetry Month. Since then, National Poetry Month has become the largest literary commemoration (Academy of American Poets). These pieces below perfectly exemplify the idea of poetry: the becoming of expression itself.
Amanda Gorman: "Alarum"
Through mastery of the craft, Gorman has established her presence, not only within the poetry community, but also throughout the nation with her pieces of social justice and identity. In this piece, Gorman experiments with the disjointed portrayal of the poem to further demonstrate her point about the relationship between division and climate change. 
"Extinction is a chorus / of quiet punching / that same note. What can never be brought back / can/ still be brought forth / in memory / in mouth / in mind. / To say it plain is to tell / only half / of the story." 
Gorman's impact on the nation is unmatched. Ramapo English Teacher Mrs. Manzo notes that the recording of Amanda Gorman's "The Hill We Climb" she presented at the inauguration is "a good place to start" when entering into the world of poetry.
Kendrick Lamar: "How Much a Dollar Cost"
Throughout this track on his album To Pimp a Butterfly, Kendrick Lamar is able to paint an unforgivingly real character, embracing vulnerability with the potency of his words. 
"I wash my hands, I said my grace, what more do you want from me? / Tears of a clown, guess I'm not all what is meant to be / Shades of grey will never change if I condone / Turn this page, help me change, to right my wrongs".
"I find his lyrics to be intensely visual, and the emotion to be palpable, especially in the lines above, which show a deep desire for forgiveness," says Senior Colby Koutrakos, who believes Kendrick Lamar's lyrics to be unmatched in contemporary music.
Poetry's Impact
Poetry requires just one thing: listening, a type of inherent listening that all humans possess. With this comes not only an understanding of the full perspectives shared but also of your own identity. Our response is just as important as the discovery of a piece and the words themselves. Through studying poetry, both reading and writing, Mrs. Manzo reflects upon her love for poetry and its introduction to new minds: "[…] if you stumble upon a poem that you can relate to, it truly can change your outlook on life. Poets take the familiar and express it in new ways that opens their audience up to the wide perspectives we as humans need to understand about each other and the human condition." 
Recommended Poetry Collections:
And Still I Rise– Maya Angelou
Judas Goat–  Gabrielle Bates
Salt– Nayyirah Waheed
Lighthead– Terrace Hayes
Time is a Mother– Ocean Vuong