Say 'No' to Idling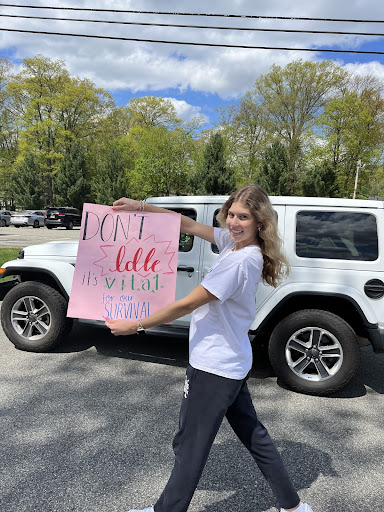 "Don't idle, it's vital for our survival!" Your parents or guardians may have seen these very words displayed on signs a little before dismissal time in mid-March. It was all because of our very own Environmental Club! The campaign started off in the drafting stage. Faculty Advisor Mrs. Angerson, along with presidents Erin Freeman, Caroline Corrado, and Kendall Lagana, met with Mr. Smith to plan a campaign that would be realistic and efficient. Once approved, the club members spent two different meetings creating these eye-catching signs to display to idlers. Once they were complete, the presidents, along with Advisor Anthony Dabrowski, walked around passing all the cars that come extra early to beat the afternoon Ramapo traffic. 
"We notice that multiple cars park around the roundabout in the upper lot much prior to school ending and sit and idle," says Freeman. "They usually start coming in around 2:15. I'd estimate the car number of idlers prior to the campaign to be between 30 and 40 depending on the day." That's a lot of unnecessary pollution! Within around seven minutes, five cars turned their engines off. No effort goes unnoticed and it is a step in the right direction for the environment and FLOW community. 
The students are proud to see the outcome of their hard work. It was tedious, but Corrado is "extremely proud of how much [they] have accomplished and the impactful change it is bringing to Ramapo." As seniors, the presidents have taken their experience in their underclassmen years and channeled it into their current role. "When the opportunity came along to assist in running the club as one of the presidents during my senior year, I knew it would be a great chance to take charge in something that has been a consistent part of my Ramapo experience," says Corrado. Lagana is also extremely proud of participating in the club. "I have been a member of the environmental club for the past four years," she says. "Since my freshman year, I have always been interested in helping the environment and the environmental club was always there whenever I wanted to help out in the community. Participating in many events in school and out of school to help our environment made me interested in holding a leadership position in the club." 
Ms. Angerson thoroughly explains the science behind the campaign, saying that, "According to the US Department of Energy more than 6 billion gallons of fuel are wasted yearly because of idling. Idling reduction lessens the amount of greenhouse gasses and other pollutants that enter our atmosphere – and it is something that anyone driving a car can do." This means that much more work needs to be done. "A big part of getting people 'on board' is making them aware of the problem. In that respect I think in the future the club needs to be more involved in educating the public, and then hopefully it will compel people to make the right decision," says Ms. Angerson. With that, let's all say 'no' to idling!