In the Limelight: Showstopper Mary Regan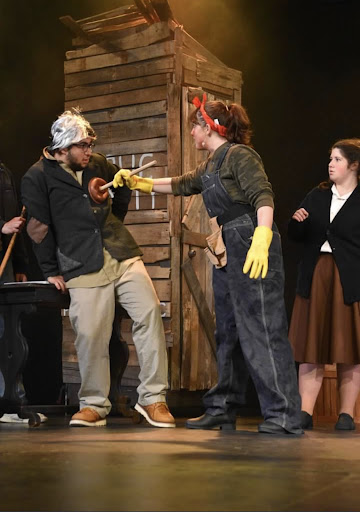 In the theater world, it is relatively easy to bring a tear to the eyes of the audience. It is a far greater feat to make them smile, to make them laugh, and Mary Regan does so with remarkable ease.
Having been performing since she was four or five years old, Regan explains that her parents' "endless support and encouragement inspired [her] to continue pursuing [her] passion." What was once raw talent has been refined with years of practice, hard work, and dedication as Regan grew to become the young woman we all know and love.
Regan has amassed an impressive resume of roles, which include Elphaba's Mother in Wicked during second grade, Lina Lamont in Singing in the Rain during sixth grade, Mama Euralie in Once on This Island during seventh grade, Elle Woods in Legally Blonde and Rafiki in The Lion King during eighth grade, a narrator in Clue! Virtual Edition and a member of the ensemble in The 25th Annual Putnam County Spelling Bee during sophomore year, Phil's Girl in bobrauschenbergamerica and Mary in Godspell during junior year, Bow in Girls in the Boat and Ms. Penelope Pennywise in Urinetown during her senior year, and more. Of Ms. Pennywise, Regan claims that "when I think of which character I fell in love with playing, she easily wins." Regan, in her own words, "love[d] [Ms. Pennywise's] no-nonsense attitude, her pure, unadulterated woman empowering character, her empathetic and motherly roots. She is quite literally [Regan's] hardest goodbye out of any character [she's] ever performed." It's no wonder – Regan's performance as Ms. Pennywise was hilarious, touching, and hit all the right notes, even, and especially, those of ear-shattering proportions.
Regan's own empathy and compassion are unparalleled. Dedicated to giving back to the community, she enjoys sharing her passion for performing with the children of Roberto Clemente Elementary school, having "participated in the Holiday Fest shows all four years of high school." According to junior and fellow Gold Masque member Addi Palmer, "Mary is one of the nicest people I have ever met. She's always included me with her friends and has never made me feel out of place. She's such a kind person to everyone no matter who they are, and she's just got this bright personality that you always want to be around!" Choir teacher Mrs. Magnus agrees, praising Regan as "a ray of sunshine in the music department who brings a critical work ethic and ear to rehearsal. Her positivity, motivation, and dedication to the art are infectious and she ignites passion in the room around her. She is an encouraging peer leader who always leads by example." Regan, with her contagious smile, always has a kind word to say in complete sincerity.
Regan will be attending James Madison University in Fall 2023 for Communication Sciences and Disorders. She hopes to use her degree to help others as a voice therapist or a speech pathologist focused primarily on autistic children. When asked if she plans on performing in college, Regan said, "Absolutely. Performing has always been an escape for me, so I'd definitely like to continue."
Mary, we at Ramapo will miss you and your ability to make us smile. James Madison is lucky to have you!