Erin Poppe: Dancing Toward Her Dreams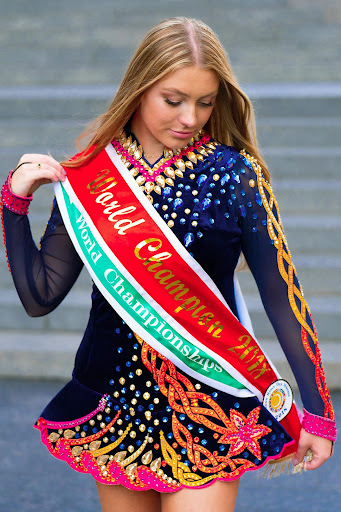 Always a smiling face, Erin Poppe is a model for living the life you love. Poppe was named World Champion of Irish Dancing in 2018, Leinster Champion in 2019 and 2021, Mid-Atlantic Champion in 2021, 2022, and 2023, and National Champion in 2019 and 2022.  Poppe credits her dance teachers with "inspir[ing] [her] to be the best dancer and person that [she] can be."  Although Poppe claims much of her success is due to the encouragement and support of others, there is no doubt that her own determination, hard work, and talent have gotten her to the place she is in today: the top.
Having persisted with training throughout the entirety of the COVID-19 pandemic, Poppe's devotion to her craft became doubly clear.  Poppe identifies lockdown as a distinct "challenge in [her] career," during which "Not being able to compete or dance with [her] friends at practice was very isolating and [she] struggled to stay motivated."  Yet, Poppe endured, using Zoom to communicate with her teachers and keep her skills sharp and constantly improving.  According to senior Alexa Lora, "From the classroom to her dance studio, Erin rarely takes a day off.  Her hours of practice at her dance studio are only a fraction of the work she's put in."  Lora goes on to explain that "[Poppe's] dedication, time, and sacrifices have truly paid off. […] I couldn't think of anyone more deserving of the awards and recognition."
From the moment she first saw her cousin performing at a competition, Poppe "knew [Irish dancing] was something [she] had to do."  Twelve years later, Poppe has continued to follow through with her dream, explaining, "My favorite part of dancing and performing is how happy it makes me. Whether it's at practice or on stage, I never feel more like myself than I do when I'm dancing. I'm so thankful to do what I love every day and for the freedom and excitement it brings me."
Regarding track at Ramapo, Poppe, a four-year varsity athlete, says, "I have loved working and competing with the team and truly appreciate the experience I've had."  Ramapo Track coach Mr. Manzo explains that Poppe is "Not one to self-promote," that she "started her time with track as a kid who came to practice with a smile and a great work ethic and with no mention of exactly how talented she was in her dance endeavors."  As her coaches and teammates grew to know and love Poppe, they also came to realize "exactly how good Erin was and have been enjoying following her many successes as a dancer while watching her continue to develop into [their] best overall sprinter, running the 100, 200, and 400 and on pretty much any sprint relay and always competing through states and Nationals."
Poppe will attend Notre Dame University in Fall 2023 to major in business and be a part of their Irish Dance team.  According to Mr. Manzo, "Erin's ability to balance [track and dance] while also handling a challenging academic schedule will serve her well in whatever she chooses to do in the future and of course will help in her transition to Notre Dame next year."
We at Ramapo look to Poppe as a lesson in appreciation, passion, and persistence.  Erin, we wish you luck in all your future endeavors.  Keep dancing toward your dreams!