New York Yankees: Spring is Back in the Bronx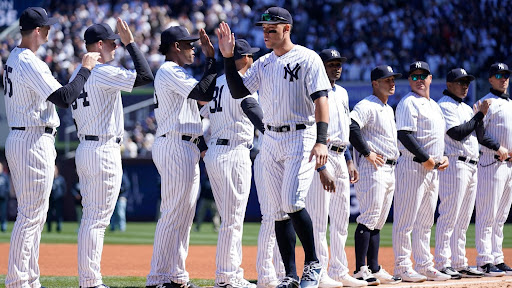 Court is in Session
Spring is here; the Bronx Bombers are back… and looking a bit different than they did in 2022. For one, the Yankees have their 16th captain since founding in 1903: Aaron Judge. 'The Judge' is coming off a storybook season hitting almost for a batting title at .311, an American League record of 62 home runs, and an eye-boggling 132 runs batted in. This offseason he signed the largest non-pitcher contract at 9 years amounting to $360 million with incentives, so fans are eager to see what the 6 '7 giant has in store for the 2023 season.
Big Acquisitions
Besides Judge's $360 million contract, Brian Cashman flexed the Yankees' high payroll with a 6 year, $162 million contract to former Giants pitcher Carlos Rodon. Despite an early setback injury, the lefty is expected to make a start in early May where fans should expect high velocity, a money-making slider, and a newly developed lethal changeup.
Aside from this, the Yankees' made minimal moves to their offense aside from acquiring Red Sox utility player Franchy Cordero who has proved to be a big bat off the bench. Losing Matt Carpenter was a tough moment for the fanbase who adored him, but Franchy fills his shoes well. However, some Yankees fans are not complacent with the 2023 free agency. Junior of Ramapo, Andrew Fitzmaurice remarked, "I would have liked to see the Yankees spend more money offensively, maybe adding another contact hitter. However, I am excited for Carlos Rodon to pitch once healthy." Fitzmaurice is 100% correct in the fact that the Yankees lack a small-ball approach, however the team is hopeful that the young talent can bring more contact and speed.
Anthony Volpe Receives a High Five in the Team Dugout. Photo Source: NJ.com.Young Talent
After seeing Jeremy Peña of the Astros thrive despite his young age, Brian Cashman, the Yankees General Manager, made some daunting decisions including calling up Anthony Volpe from Triple-A ball. Volpe is a New Jersey native and Delbarton alumni who grew up a Yankees fan his whole life. Along with Volpe are sophomore big leaguers Oswaldo Cabrera and Oswald Peraza, also known as the two Oswalds.
Most Yankees fans love the young guns getting their chance at starting spots including Ramapo English teacher, Ms. Davanzo. She stated, "Homegrown Volpe is everything the Yankees hoped he would be: enthusiastic, fast and savvy on the basepaths, and smooth at short. His hitting will improve with time." Volpe has already improved his hitting after the first 20 games, now hitting around .300 in his last stretch. In addition to this, he has stolen 8 of 8 bases attempted, proving to be a huge threat not just in the batter's box (Espn.com). Ms. Davanzo also exclaimed, "Cabrera is my favorite of the latest Baby Bombers; he has a youthful swagger to him that I think is refreshing and different in the organization, and he's flexible, playing half the positions on the field with skill." After some of his flashy plays last year, Cabrera's jersey sales skyrocketed amongst the Yankee fanbase.
Bottom Line
Last year the Yankees started out hotter than any team in history, but fell to just winning 99 games of 162. In the postseason, they were swept by the World Series champion, the Houston Astros in the American League Pennant. This year the Yankees are expected to win a similar amount of games, projected at 103, but this time with a triple headed monster threat in the rotation. With the strength of Gerrit Cole, Carlos Rodon, and Nestor Cortes pitching in a 7-game series, the Yankees are expecting a strong postseason push to hopefully win championship number 28. For now, we must wait to see the Bronx Bombers get into action!