From the Garden State to the Golden State: Ramapo High School's Music Department California Trip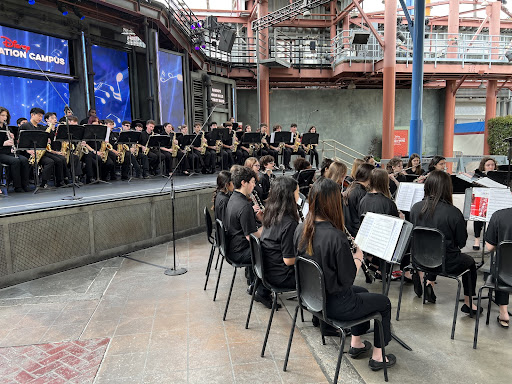 The annual Ramapo High School music department trip has been something each band student has always looked forward to! For five days the Ramapo Music Department  travels to California to perform at Disneyland and enjoy the park amenities. The music department practices their performances leading up to the trip as they were accepted to play at Disneyland. The highly anticipated California music department trip entices students to join the music department for fun experiences. The Ramapo Music Department plays at Disneyland for fun and to gain experience by playing professionally in front of a crowd. This trip enhances the music department's skills through a music workshop and the exposure of playing new venues with large crowds. 
Trombone players Felissa Ouidad and Matt Sabino describe their performance in California. Sabino explains that the band "could have played better. The seating was very odd and there were many wrong notes and instances with bad timing that should not have happened, and [he] do[es] not think it is up to the standard [of their] other performances." Although the music department has been practicing for this performance, band members recount that they believe they could have performed better. Section leader of low brass, Ouidad, had a contrasting opinion and explained how she thought "[their] performance went very well considering [they] took 80 total kids of varying skill levels." She also comments that her favorite part of the trip was the recording studies at the park. Ouidad explains how in the recording studies they played music they had never seen before, which tested their sight reading abilities and challenged the music department. She enjoyed watching and learning about the most popular productions in the film industry. 
Band director and teacher Mr. Sloezen, also comments on the overall performance: "I am very happy with how my student's performed. The trip band is a district group which means Ramapo and Indian Hills students play together as one. This adds an extra layer of difficulty since we only have a limited amount of rehearsals with the full group." He also commented on the fact that he is incredibly proud of his students for their growth in sight reading. Overall, the music department's California Disneyland trip has been a success in terms of growth and experience.