Senior Spotlight: Alexa Lora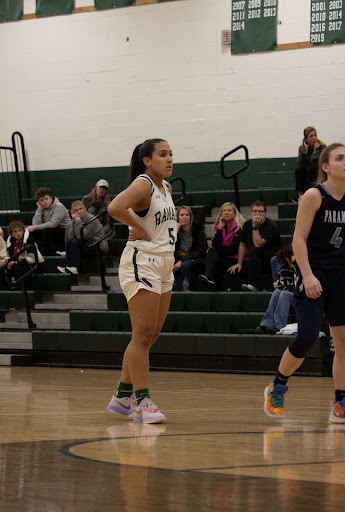 Senior, Alexa Lora, is a shooting guard and point guard at Ramapo High School who has been playing basketball since the age of 9. She always loved the sport of basketball and has only grown to become better each year. This all-star player had 234 points throughout her senior year, and a total of 698 points in her basketball career at Ramapo (NJ.com). She played varsity basketball all 4 years at Ramapo and has now made her way to become the captain of the team during her senior year.
Alexa is a phenomenal player who not only makes 9/10 free throws, but also seems to have a spot-on three point shot from anywhere around the three-point line (NJ.com). She has a great drive to the basket and seems to intimidate the other players away with her amazing capabilities. Alexa is a strong captain and has helped to lead the team since she first stepped foot onto the court. The coach of the Girls Basketball Team, who has been coaching Alexa for 4 years, had alot to say about this phenomenal player. Coach Gordon says, "She is a stand out player that can be quick to guard and reads the floor well. She worked extremely hard in practices to set a good example for the younger players and she always brought a great energy. She was a tough player and led the others by example." After talking with her coach, we were also able to hear from one of her close friends and teammate, Charlie Greene. Charlie states, "Alexa is an all around player who is able to pass, score, and is always there to cheer on the team. She is not a selfish player and she  is never afraid to pass it to another player so they can get the better shots. Alexa is a leader who takes control on the court to help teach the younger players. She is never yelling or mad at anyone, but always there to pick them up. Alexa does not play for herself, but for the team." Ultimately, she will clearly be missed next year  after graduation.
Alexa has been a fantastic player for both her school and club team, NJ Freedom, AAU. She has continued to love this sport and it seems she will always have a passion for the great game of basketball. She worked hard from her first day as a freshman to her last day as a senior, ending her career with scoring about 700 points. She is lucky to keep her streak of basketball going as she enters college next year. She is honored to be playing D3 basketball at Johnson and Wales next season. Overall, Alexa has been a key asset to the Girls Basketball Team at Ramapo for the past 4 years, and she will continue to show her skills throughout her college career. She is excited to continue this journey and is ready for a new chapter and another chance to play her favorite sport. It is certain that the team will miss her spirit and love for the game.