Ramapo Boys Basketball: Group III Champs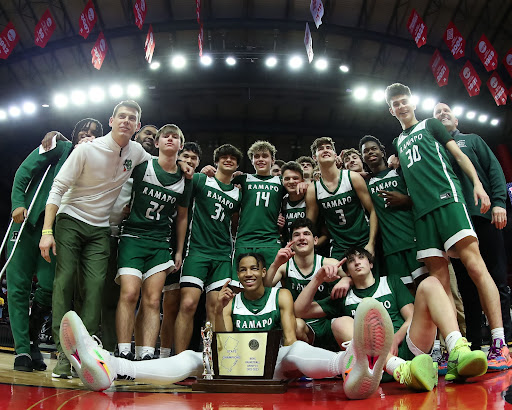 From the beginning to the end of the season, the Ramapo boys' varsity basketball team has been on a roll. The team put together an outstanding season holding a 30 – 3 record and capped off the season by winning the elusive group III state championship (NJ.com). Last year, Ramapo made the group III finals, but came up short in a loss to Woodrow Wilson High School. This year the Raiders were looking for revenge. The team took down the 22 – 9 Nottingham High School team 55 – 42 at Rutgers University on March 4th. Prior to the championship game, Ramapo comfortably won most of their games competing in the North 1 Group III State Sectional Tournament. Ramapo would then go on to play Colonia and advance to the finals with a 53 – 49 win. 
Throughout the tournament, Ramapo dominated with an average margin of victory of 21 points. Every player on the team showed what they could bring to the decisive championship win. Ramapo guard Chris Cervino led the way at Rutgers, tailing 19 pts that included 4 crucial threes. Cervino had this to say on the electric game: "We came back for revenge this year and got the job done". Fellow Ramapo guard Peyton Seals contributed greatly as well with 16 points and 10 rebounds. Senior forward Nate Burleson also had an excellent final game with 12 points. 
Ramapo teacher, Mr. Manzo, had some great words for the team: "Congratulations to our boy's basketball team on being state sectional and state group champions!  This team had a historic season and were so much fun to watch—a talented group of players, great coaching, and the positive chemistry amongst the team was always very evident, making this the most complete team I've seen in my 23 years here at Ramapo." It's safe to say that the Raiders have made our school proud!
Sources:
https://highschoolsports.nj.com/school/franklin-lakes-ramapo/boysbasketball/season/2022-2023/stats