The White Lotus: New Season, New Destination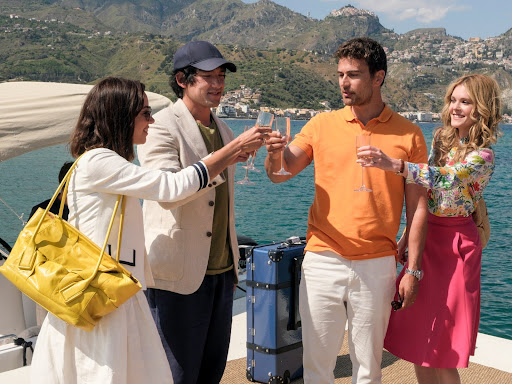 In 2021, HBO released their hit anthology series The White Lotus. It follows multiple characters on their Hawaii vacations, balances various storylines, and tackles hot-button social issues through a satirical lens. The show, created, written, and directed by Mike White, won big at the 2022 Emmys. An article from The Miami Student states that it, "was the most-winning show of the night" and was awarded "five awards […] including Outstanding Limited or Anthology Series and 10 total awards when combined with the Creative Arts Emmys." With its dark humor, modern flare, and esteemed cast, The White Lotus has seized people's attention, particularly with the release of its second season.
It takes place in Italy with a new set of characters as we accompany them on their overseas trip. Similar to season one, season two is filled with mystery and witty dialogue. But these well-done stories would be nothing without the talented individuals that act them out, like Michael Imperioli and Aubrey Plaza, who have both joined the show this year. According to IMDB, the latest episodes actually performed better than the first, with season one amounting to an average rating of 7.8 and season two an 8.3. Ramapo teacher Ms. Gregory would seemingly agree with this, as she holds her watching experience in high regard. "I can't wait for the next season! Every character, every scene, every location and every death ends up being as fascinating and entertaining as the one before it," she says.
So, what is it about this show that people love so much? Well, as Vox Magazine puts it, The White Lotus brings our focus to the "ugly American tourist." This label refers to someone from the U.S who travels to another place and acts "loud, brash, impolite, and equipped with a terminal lack of self-awareness." It seems as though people find this type of caricature intriguing, especially when they don't necessarily fit that stereotype and get to enjoy it from an outside perspective, like Ramapo senior Alison Messineo. She explains that, "Just like last season, it really kept you engaged and on your toes. The only bad part about it was waiting each week for a new episode to air!"
Luckily, all the episodes are available now for streaming without any wait. So, if you're someone who enjoys satirical television interlaced with thought-provoking ideas, then The White Lotus should definitely be added to your watchlist!