Senior Spotlight: Daniel Mauriber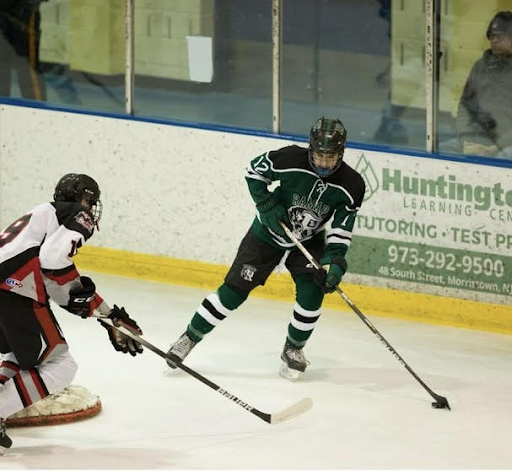 Danny Mauriber is a pivotal member of the boys' hockey team, contributing to much of the team's successes. He is both a leader and a team player on and off the ice rink. Mauriber began his ice hockey career at a very young age. He began with roller hockey, yet, when his friends introduced him to the ice, he immediately fell in love with the sport. Entering his high school years, he played for numerous elite club teams in the Bergen County area, including the Bandits, Colonials, Hitmen, Saints, and Avalanche. Mr. Russo, coach of the hockey team states, "Danny is respectful and supportive of his teammates. His goal-oriented focus motivates others to be positive members of our community, in the classroom, and in competition."
During his time on the Ramapo team, Mauriber has accumulated many impressive statistics. As a forward center and left-wing, he has scored over 20 goals and has 16 assists. Also, he was recently recognized for reaching the career 100-point mark this season. In terms of accolades, Mauriber was voted for second team all public B, as well as 2x second-team all-league. He was also nominated for numerous player of the week awards and also for freshman, sophomore, junior and senior player of the year.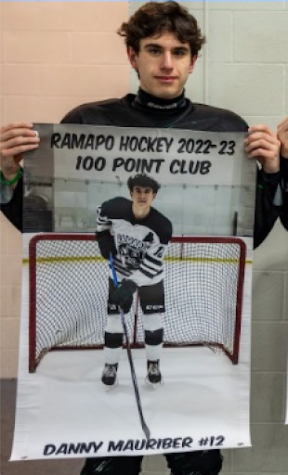 Mauriber is not only a consistent player, but he is also very resilient when faced with adversity. He states, "At the beginning of my freshman year, I broke my jaw and was sidelined for 8 weeks. I also faced a setback when I broke my finger this year." Despite this emotional and physical turmoil, he was able to push through the recovery process to get right back on the rink. This comeback would not have been possible without both his determination and love for the game. 
The boy's hockey team will be losing a key player next year when Mauriber goes off to college; however, he has been an excellent model player for the underclassmen throughout the past four years. He reflects on his time on the Ramapo team and offers some valuable advice to his teammates: "Enjoy every minute playing high school sports, as it goes by very quickly!" 
Mauriber repping green and white while on the ice (Photo Courtesy of Daniel Mauriber).
Congratulations Danny on all of your successes thus far. We wish you the best of luck with the rest of your season and in your future college endeavors!