Taylor Swift's Midnights: A Journey Through Her Eras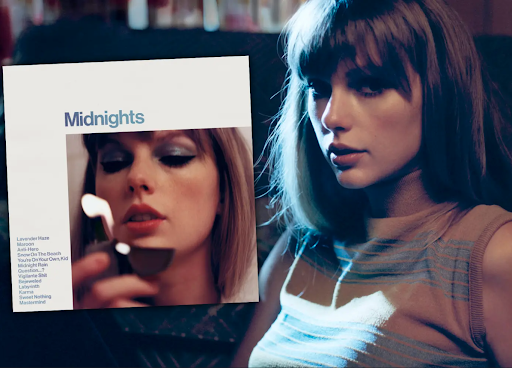 There are at least a handful of nights in each of our lives where something kept us up hours after we were supposed to be fast asleep. Whether it be because of a person, lingering thought, or regret, wide-eyed nights are a shared experience, even for celebrities.
Taylor Swift's 10th studio album, Midnights, is inspired by this very wonder. The album came as a surprise to many of her fans when she announced it at the VMA's this past August, as they were awaiting another re-recorded album. Instead, she dropped an entirely original set of songs on October 21st with 13 tracks on the album (20 on the deluxe). An article from Mashable quotes Swift as she explains that the album takes her audience on a journey through "13 sleepless nights scattered throughout [her] life." This aspect is prevalent in the album as you hear sprinkles of her past musical eras and their unforgettable rhythms. But overall, the album embodies a serene tone without lacking her usual catchy hits.
Ramapo Sophmore, Alexis Lynch, says that "Midnights is an amazing new album. The songs are relatable and showcase so much new talent. I'm looking forward to seeing her perform live this May." Standard affirms this, claiming the response from fans has been "overwhelmingly positive." Standard went on to announce that Midnights reached "185 million streams on its release day," which is record-breaking for both Swift's discography and the music industry itself. CNBC described how the artist built up tension and kept her fans intrigued in the time they were awaiting the release of Midnights. With her "posting behind-the-scenes looks at the making of the album all the way to nightly 'Midnights Mayhem With Me' TikToks where she revealed track titles one-by-one… it feels like 2015 again for fans, as Swift is posting practically every day and interacting with fans." As for the songs themselves, Ms. Schwarz, a teacher at Ramapo, explains how "[She] like[s] when a song starts to grow on you. 'Sweet Nothing' is the least streamed song on the album, but it's beautiful in its simplicity."
In many ways, Midnights is the epitome of every heartbreak, life lesson, and unique era Swift has endured. For fans that have been here since the beginning, the album can be quite an emotional rollercoaster as they try to piece together where every song falls throughout her dynamic career. With that said, the album is not solely enjoyed by long-time Swifties. On its own, the album still stands as an enjoyable listen (even with a few tears shed) with many melodious, relatable tracks. So, if you're a fan of Taylor Swift's music or chill pop in general, Midnights might be a great album to check out.