Jules D'Andrea: Stage Manager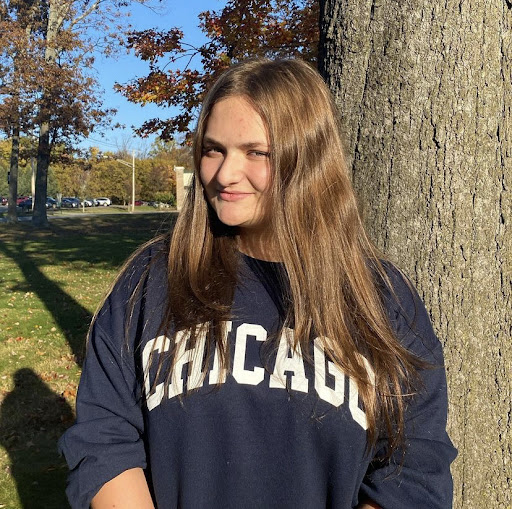 Lighting cues. Lines. Staging. Blocking. All necessary parts to making sure a show runs smoothly, and all things that couldn't be done without a stage manager. The importance of having a good stage manager, then, cannot be understated. Thankfully, Gold Masque has a great one in the form of Julianna "Jules" D'Andrea. 
D'Andrea has been a member of Gold Masque since her junior year, having started by shadowing former stage manager Caitlin Berenson in the play Bobrauschenbergamerica. She was then the assistant stage manager to Berenson for the spring musical, Godspell. Now, in her senior year, she has officially taken the role of stage manager for the fall play, Girls In The Boat. It's not an easy task. D'Andrea has to be present at almost every rehearsal to take note of each cast member's stage direction, as well as every light and sound cue, and read lines for absent cast members. Then, during performances, she runs the show, keeping the cast and crew alike on their cues. And yet, D'Andrea makes it look effortless. She manages to be on top of everything, facing every challenge that comes her way. Essentially, the role of a stage manager is to make a million different components come together in harmony. That's why D'Andrea is so good at what she does. Gold Masque's technical director, Mr. Nemeth says that Jules' "attention to detail and drive" are her greatest assets. She makes the pieces fit so well that the average audience member would never even suspect that they were separate in the first place. 
When talking about being a member of the crew, D'Andrea says that she loves it because "I get to experience the world of theater from an outside perspective that doesn't necessarily perform on stage." She cites a particular example of this from Godspell, where she got to "learn the [music] parts with the sopranos, but then had no pressure or obligation to perform or remember the parts for the stage." One of her favorite things to do as stage manager is control the microphones, as she loves blending voices and volumes together to find the perfect sound. 
As for the future, D'Andrea is once again on top of things. She has planned to be a lawyer since elementary school and is applying exclusively to schools that offer six-year law programs. She acknowledges that the program will be challenging but states, "I feel capable to undergo and experience the challenge to become my dream career." 
D'Andrea plans to be the stage manager once again for Gold Masque's production of the musical Urinetown. The club will be ecstatic to have her back, with club member Bryan Fortunato saying that D'Andrea "is always very committed to rehearsals and does a great job leading underclassmen." It is certain that D'Andrea will bring this commitment and passion with her wherever she goes.