Spinning the world: Samantha Eldred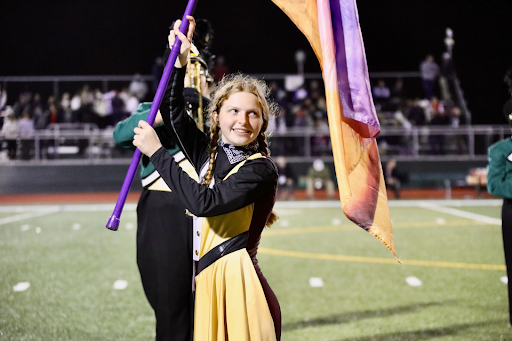 Marching onto the field and spinning flags is what typically comes to mind when people think of color guard. Yet, many don't realize the hard work that goes into the hypnotic routines. Color guard is a marching band staple, as their swirling banners have dazzled fans for years. 2022 color guard captain Samatha Eldred is the reason Ramapo's flag twirlers are the remarkably precise team we see on the field.
Eldred has been in color guard for all four years of her high school career, and her hard work paid off when she was named color guard captain her senior year. Additionally, she has been a part of a baton twirling company named Illumination Twirling, which has only sharpened her skills. As color guard captain, Eldred has additional responsibilities, such as managing the equipment to make certain that the flags and rifles are ready for games and competitions. Eldred was able to lead the team and, when necessary, repair the equipment thanks to her diverse skill set. She took her position in stride, added additional practices, and provided herself as a link of communication between the band directors and the color guard.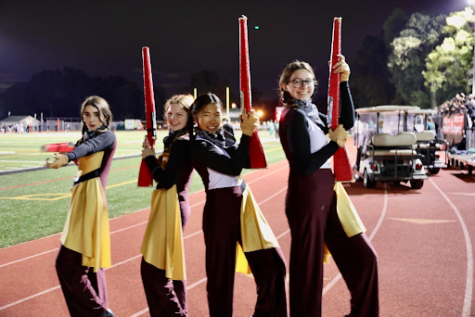 Eldred speaks on the lessons the guard has taught her, such as "adaptability, problem-solving, and leadership." 
Mr. Sloezen, Ramapo's marching band director, speaks on Eldred's dependability and commitment to color guard: "Sam has been one of the hardest working section leaders of the season. Not only has she been at every marching band event of the season, she has also taken the initiative to have sectionals beyond normal practice time. Her dedication to the group and positive and calm demeanor has made her easy to work with as a go-between for the staff to the other band members." Mr. Sloezen speaks incredibly highly of Eldred and her achievements as he continues to complement her dedication to her team, choosing not only to improve her skills but also to help the other guard members. Eldred has had a significant influence as color guard captain since she has been able to make such a great impact with only a few people. Eldred's passion for assisting others and the marching band is evident in her actions and the way she respects people.
Sara Bykov and Meredith Roughgarden, two fellow color guard members, emphasized that Eldred takes pride in her role. Bykov spoke about Eldred's ability to take care of her guardmates: "Sam always checks in with us, whether it is about guard stuff or personal things, she makes sure that we know she is always there for us." The two guardsmen also praise her organizational and time-management abilities, remarking on how well-prepared and focused she is. Roughgarden speaks highly of Eldred, as she remembers times when Eldred taught them the routine herself, even when she was not a part of said routine.
Eldred wishes to carry on with marching band and baton twirling in college, even though she will not be continuing color guard. She wishes all marching band members luck on their next season and hopes they have a successful one.  Eldred has been a substantial part of the color guard and marching band, and we will certainly miss her.  Sam, good luck in your future endeavors!