The One With Friendsgiving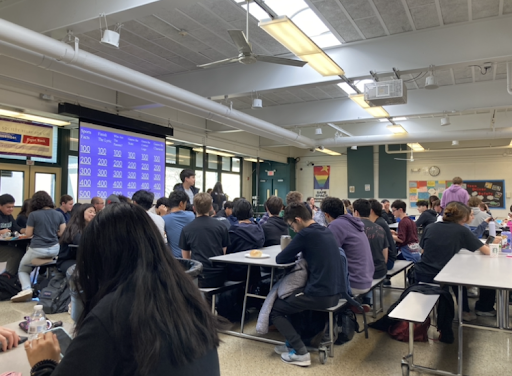 Who will find a Golden Ticket? This question has permeated the Ramapo senior class ever since the first email went out announcing the Wonka Bars Fundraiser and Friendsgiving Event set for November 23 – the half-day before Thanksgiving break.
On the much anticipated day, the senior class gathered in the cafeteria during ninth period. Being the day before Thanksgiving and all, food was a necessity, and the bagels, cookies, and coffee generously donated by Goldberg Bagels, Midland Park Bagels, and Starbucks were a hit. As they entered, students were told to choose a table, each labeled with a Thanksgiving food, including "Ham," "Stuffing," "Turkey," and more.
The event began with a raffle. The planning committee, according to Mrs. Vander Molen, was "given swag items to raffle off from Country Cafe and Roast'd in Franklin Lakes. Some other items raffled off were Ramapo ornaments, class of 2023 sweatshirts, and Ramapo stadium seats." Using their table labels as team names, the seniors then engaged in a bout of Jeopardy-style trivia with six categories: Sports Facts, Who Are the Parents, Guess the Character, Finish the Lyric, Guess the State, and Guess the Logo. The winning team was "Sweet Potatoes," their prize extra Wonka Bars.
Run by Mrs. Vander Molen, Mrs. Sibilia, and the senior class student government, a great deal of planning went into the Friendsgiving event. Mrs. Vander Molen explains, "We were so excited to host Friendsgiving for the Seniors this year […].  Mrs. Sibilia and I were thinking about all of the challenges the Senior class has faced throughout their experiences at Ramapo and wanted to have the students share in a moment where we could finally be together and just enjoy each other's company in the building. To top it off, we wanted to offer something unlike any other event in the school's history – free prom tickets." After the fun and festivities, the chocolate bars, a maximum of two purchased per student in support of the class of 2023, were distributed and unwrapped. Only two could win, and seniors Ella Fried and Giana Delmas were fortunate enough to find gold peeking through their wrappers. Fried expressed her ecstasy, stating, "I'm totally shocked!  I never thought that I would win, but it's definitely getting me excited for prom!"  Delmas admitted, "If I'm going to be honest, my mom ordered the bars and reminded me that morning to grab them, so I'm glad she reminded me and now all I have to worry about is a dress!" Congratulations to Ella Fried and Giana Delmas!
The Friendsgiving Event was designed to be a fun, stress-free opportunity for Ramapo's seniors to spend time together before the last Thanksgiving of their high school career. Seniors, this year is full of "lasts" and goodbyes.  It is the end of a chapter. Years from now, high school may feel like a distant memory, a blurry film stored away in the filing cabinet of our minds. The best memories will be our clearest. Friendsgiving will be one of them.