Because Title IX: Gold Masque's Production of Girls In The Boat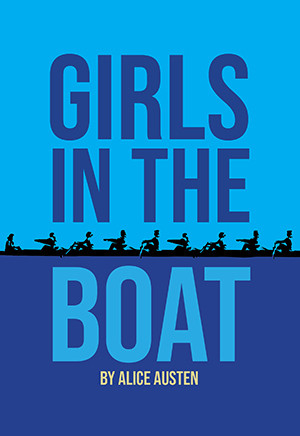 On June 23rd, 2022, female athletes around the country celebrated the fiftieth anniversary of Title IX, a federal law that prevents sex-based discrimination in programs that receive federal financial assistance. With the anniversary of such an important piece of legislation, it seems very fitting that Gold Masque's fall production is all about female athletes and Title IX. 
The play is called Girls In The Boat, written by playwright Alice Austen. It deals with the history of the U.S.A Women's Olympic Rowing Team over a forty-year period, starting with the first women's Olympic rowing race in 1976. The audience sees the passing of Title IX, the 1980 U.S Olympic boycott, and various other major historical events through the eyes of the athletes who were at the center of it all. 
Trials and tribulations for the girls ensue not only from these events, but also from conflicts with each other, struggles with making the team, and an ever-present, pesky journalist. The show's director, Rebecca Corrado, says that "The play focuses on a group of women from all different backgrounds coming together to achieve a common goal, in a really fun and creative way. I think we all got to learn a lot about not just ourselves through this process, but about the world in general, and the place of women in the world of sports." 
This production is Gold Masque's first (in a long time, at least) single-sex production, boasting an eleven-woman cast that spans all four grades. Thanks to being a relatively small production, the cast and crew grew close throughout production. Senior and cast member Mary Regan says that during production "your cast and crew becomes a little family that supports and loves each other like no other." 
There were three performances of the show, on the 1st, 2nd, and 3rd of December. Thankfully, Gold Masque will have one more show: the musical Urinetown, which will be performed in the spring of this school year. Auditions for Urinetown will be held virtually and will be due on December 18th, so if you have a passion for performance, make sure to audition!