Senior Spotlight: Carli Silverman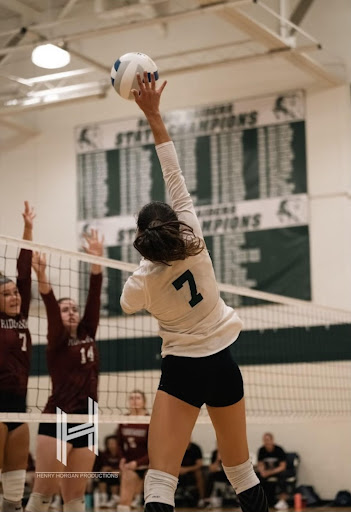 Carli Silverman is a key asset to the Ramapo Girls' Volleyball team. Her energy and enthusiasm combined with her skill level make her an extremely talented player. As captain, she has led the team to many successes. During her freshman year, she was pulled up to play on the Junior Varsity team, where she demonstrated her skills and strong suits. She has been a starting player on the varsity team for the past three years. During the off-season, Silverman plays at a very competitive and high-level of club volleyball, traveling to many prestigious tournaments and events. 
Silverman's positions on the court include outside hitter and middle back. Throughout her high school career, she has had over 321 kills, 136 digs, and 78 aces. Silverman began playing in 7th grade when she tried out for the Franklin Lakes middle school team before she advanced to more prestigious clubs. Silverman instantly fell in love with the sport. She states, "When I tried out for the 7th-grade volleyball team, the teammates were so supportive and encouraging which made me enjoy the sport even more. As a nervous, new player, I was able to understand the game better and my skills advanced as time progressed." She went on to play for the travel team, Diggs, where she was part of the club's top team. Then, she played for a club called Pinnicle for two years. For the past four years, she has been on a team called Side Out Sports.  
Coach VanHook of the Ramapo volleyball team notes, "All of her experience helps her read the court and anticipate what the other team is going to do." 
Moreover, Silverman's athleticism and height help her game, as she is extremely aggressive and explosive when she attacks the ball from the outside. While volleyball is her main sport, Silverman is well-versed in numerous other areas of athletics. She is a three-sport varsity athlete, playing volleyball in the fall, swimming in the winter, and running track in the spring. As the captain of the swim team and a member of a 4x400m relay that took 1st place in the NJSIAA North 1 Group 3 Sectional, Silverman holds numerous accolades in these other sports as well. Not only is she an all-star athlete, but, as the vice president of the student council, Silverman is also a devoted student with a lot of school pride. 
While she has faced many setbacks throughout her career, they have only made her an even stronger person and player. Toward the end of her junior year, she found out that she had been playing with double leg fractures; however, she spent the summer undergoing rehabilitation to ensure a speedy recovery for her senior season. Another life-altering moment for Silverman was when she started having unusual symptoms. She remarks, "During eighth grade, I started experiencing intense body aches, rapid heart rate, mood swings, and fatigue. I was diagnosed with Graves Disease which is a type of Thyroid Disease. I was scared, confused, and felt powerless, especially when trying to function in school and during sports."
Silverman's comeback is inspiring. While she endured a lot of pain and frustration throughout her recovery process, she was able to heal herself and get right back on the court. It was her grit, discipline, and resilience that made this possible. 
Despite this adversity, Silverman has earned renowned success in volleyball. In terms of athletic recognition and accolades, Silverman has been named First Team All-County and First Team All-League. On her club team, she earned Open 1st Place Gold Bracket at the NJ Invitational, as well as Open 1st Place Gold Bracket at the Nike Boston Volleyball Festival. 
Her team spirit and bright personality are a few of the many qualities that her team cherishes. Coach VanHook states, "The younger girls will definitely miss her next year. Carli is super positive on the court. It is very challenging to lose someone with that much experience. Carli is a leader on and off the court and the girls definitely looked to her when we needed a big play." 
Silverman intends to pursue volleyball in the future by playing at the club level in college. She wishes the team the best of luck on their season next year, and she is extremely grateful for all of the new friends and memories that she has made. Congratulations Carli on a successful senior season, and good luck next year at college!