Federal Pardoning of Marijuana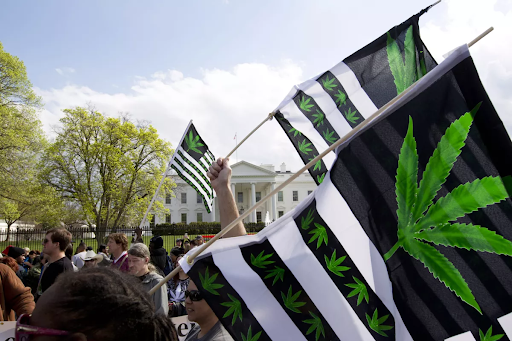 On Thursday, October 6, President Biden pardoned thousands of people imprisoned for marijuana possession. According to The New York Times, his administration said they would review whether legal precedents associated with harder drugs such as heroin and cocaine, apply to marijuana. The Biden administration's pardon will clear all those convicted on federal charges of possession, which became a federal crime in the 1970s. As stated in the Washington Post, the pardons will not apply to people convicted of selling and distributing weed and at this time, there are no convicts serving time solely for marijuana possession.
This pardoning is a huge step in prison reform and will help remove obstacles for ex-convicts when they reintegrate into society. Over the past decade, the issue of mass incarceration has emerged as a staple civil rights issue. High incarceration rates have dehumanized poor people and people of color, and have damaged marginalized communities. The system takes advantage of poverty and economic inequality which in turn holds back millions of ex-prisoners from successful reintegration into society. The NGC states that within three years of release, 67.8% of ex-offenders are cycled back into the system.
President Biden is urging governors to follow suit and release their prisoners convicted for state-level marijuana possession and is campaigning for Congress to enact complete decriminalization of marijuana, but still believes the federal government needs to regulate trafficking, marketing, and underage sales of weed (New York Times). AP Government and Politics teacher Mr. VanDerMolen discusses the difference between state and national power in his class, and noted that "Biden's policy falls under the jurisdiction of the executive branch, but overall decriminalization of marijuana is up to the state legislatures." Biden's policy is a step towards reforming the inequities built into the criminal justice system. Marijuana is already fully legal in about 20 states according to NPR, and some states have relaxed criminal penalties.
In terms of the midterm elections, President Biden's announcement could give Democrats a boost, especially among younger voters, liberals, and minority voters. Ramapo junior Ava McCann agrees that Biden's pardoning "is a strategic campaign move and will give the Democratic candidates some leverage." Although the announcement has had its share of backlash ranging from Republicans who believed it was too forgiving on drug charges, to criminal justice activists who claim that Biden took too long to enact more lenient sentencing reform proposals (New York Times). Hopefully, this pardoning will allow Congress to enact more policies that will lead to the eventual end of mass incarceration and socioeconomic inequities in our justice system.