Sky Blue Scandal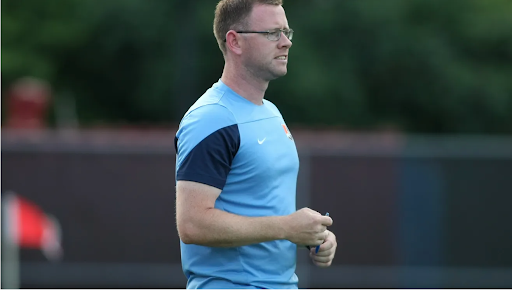 Sadly, this past year the former Sky Blue coach was reported for abuse when dealing with the girls soccer team. According to Northjeresey.com, reports have been sent out saying "New Jersey's professional women's soccer team was plagued with complaints of verbal abuse, mistreatment and allegations of a toxic team environment." This issue was soon brought to the attention of Governor Murphy and his wife who co-owns the soccer team.
The head coach, Chirsty Holly, was the main leader of verbal and sexual abuse towards the female players. It was reported, yet no one said much or took action in regards to the situation until it had gotten out of hand.
After many years of Chris Holly moving around teams and being "transferred" from different areas for unknown reasons,investigators found abuse in his manner and brought it to public attention. He was unchecked before joining many different soccer teams, such as the U.S. Soccer Federation in 2017. He was asked to leave many teams for "verbal abuse" and a "relationship with the player". Yet, what wasn't brought to the attention of the committee, was that he was sexaully and verbally abusing the women's teams he was coaching. When this issue got out of hand, the female players refused to step onto the field and started to protest against this rash behavior.
(prior allegations were failed to be discovered) (On and off the field)
The players on his new soccer team have recently been complaining about this issue for months, yet the people in charge did not care to listen to them, thus allowing the abuse and misconduct to ensue.
When talking to a junior girl at Ramapo, we posed the question: "If you were placed in this situation, what would you do to stop the horrible treatment from your coach?" Her immediate response was, "I would make sure word got out and that the coach gets in trouble before he is able to harm or affect any other female players like this." This mistreatment should not have been kept a secret and taken to such far measures.
Currently, recent reports are now being taken over by the UEFA, which is investigating the women's soccer programs. Cindy Parlow Cone states, "They lay bare the systemic failures within soccer that must be corrected if we are to be a safe, welcoming place for athletes at all levels. I'm deeply committed to change." (northjeresy.com) All athletes were told to keep the switch of teams and reasoning confidential.
Once Governor Murphy and his wife stepped in, they made this discovery about Chris Holly and decided to try to handle it quickly and quietly. New Jersey Monitor released information saying, "In August 2017, the team announced Holly was stepping down — mid-season — in a press release that praised Holly as "committed to Sky Blue" and said he and the team were parting ways on good terms." After his work with Sky Blue he went on to be the head coach of Racing Louisville. The patterns continued to follow with him and his coaching abilities as more women were being placed at the hands of this misconduct.
Once caught by the attention of the U.S Soccer Commission,they said, '"Our investigation has revealed a league in which abuse and misconduct — verbal and emotional abuse and sexual misconduct — had become systemic, spanning multiple teams, coaches, and victims," the report reads. "Abuse in the NWSL is rooted in a deeper culture in women's soccer, beginning in youth leagues, that normalizes verbally abusive coaching and blurs boundaries between coaches and players."'
Overall these players finally got a fighting chance to get a word out and they did. They spoke to the press and got the co-owner involved to try and put this disgusting behavior to an end. Sadly, they failed and were not able to put Chris Holly's coaching days to an end. It was too late when the information was released, so he is still coaching today. Surprisingly, other teams have said his behavior has gotten better and they would 100% hire him again.