Everything Everywhere All At Once Review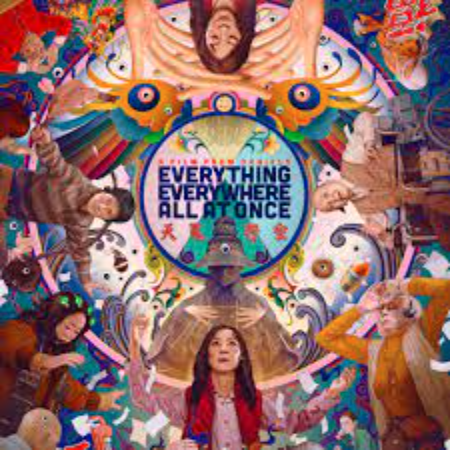 Chaos. Heartbreak. Drama. Existentialism. These four words epitomize the brand new movie Everything Everywhere All At Once. Is this movie going to make you shed a few tears? Yes. Is the relationship between Evelyn and Joy a realistic representation? Totally. Is the editing of the movie slightly nauseating? Unfortunately, yes. As I sat in the theater watching this film, which I bought tickets for without even knowing a detail of the storyline, I experienced every emotion all at once (yes, that is a pun). I was in utter shock as I witnessed the wildly impressive cinematography combined with the serious, relatable topics addressed. Everything Everywhere All At Once is a must see, despite the dizziness I felt after watching it.
Everything Everywhere All At Once follows Joy's relationship with her mom Evelyn. Evelyn immigrated from China to the United States with her husband Waymond against her father's approval. Their marriage may be one of deep love, but Evelyn cannot escape the guilt she feels from leaving her home and parents. This pressure to make their new life worth it makes Evelyn impossible to please, especially in regards to Joy's life. Joy just cannot seem to win Evelyn's approval and Evelyn cannot shake the feeling of constant regret. Both of their lives change when a Waymond from another universe tells Evelyn that she is the only person in all of the multiverse able to save everyone from Jobu Tupaki, who is another version of Joy. This fantastical conflict truly emphasizes the deeply rooted issues between Joy and Evelyn in an often humorous way. Never did I think while I was watching this movie that I would cry at watching two rocks talk to each other. On the other hand, there are scenes that made me so nauseous that I had to look away. There were no strobe warnings, and even I, usually unaffected by such special effects, felt sick from the fast paced editing, no matter how impressive it is. Ramapo Freshman Danielle Goldberg agrees and points out that "talented editing doesn't mean that it's enjoyable to watch. I was so dizzy after and it made me dislike the movie!" Even my mom had a migraine from it. Needless to say, Everything Everywhere All At Once is also a breath of fresh air with its beautiful representation of Chinese culture. Every detail is well thought out and an incredibly realistic portrayal of very realistic characters. No matter what race, religion, gender, social class, or nationality an audience member is, they can still connect to the characters. 
Everything Everywhere All At Once received a 97% on Rotten Tomatoes with an audience score of 92%, which is proof of its high standing not only in the film industry, but with everyday people. This movie is just what the theaters needed, as it is a combination of comedy, romance, and fantasy. Despite its obviously ridiculous storyline, there is an authenticity to it that is profoundly heart warming and I highly recommend Everything Everywhere All At Once.