Senior Spotlight: Madison Schiller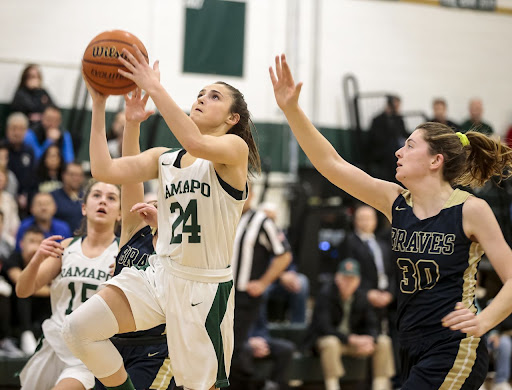 Madison Schiller has become a celebrity on the court. The opposition fears her work in the paint and around the arc and it hasn't gone unnoticed. Their most recent contest resulted in her 24 points, 9 rebounds, and 7 assists in a 79-19 victory over Tenafly. The offense, defense, and teamwork she displays is like no other. While the typical player might bask in the pride that a game like this brings, this is just another day at the office for the humble basketball player. 
Schiller has been dominating the court for Ramapo's varsity girl's basketball since before covid and top colleges like what they see. Madison recently made official her commitment to further this impressive career beyond high school with Division 1, Colgate University. There is no doubt for anyone in Ramapo that she will continue to dominate the court in Madison County, NY. Colagte finds itself in a competitive environment in the Patriot League, a conference that prides itself, not only on its Div. 1 athletic talent, but their student athletes are also required to seek academic excellence in such prestigious institutions. Colgate has proven to be an exceptional stepping stone in Schiller's career which will certainly provide many potential avenue's for this athlete's career. 
Scanning through the pages of nj.com, Madison Schiller fills the reports of landslide wins over unfortunate high school's that stand in her way. Her picture, with a determined demeanor, holds a place on virtually every article regarding Ramapo's success. She has become an undeniable leader on the team, with her built-in confidence and instilled humble arrogance creating a complete player that has led RGB to an incredible 14-0 start. Long-time senior teammate of Madison commented on her career stating, "She's always been one of the best on the team, but she lets her game speak for herself…Madison is definitely the gel to our team, and we all respect that her focus is always on winning the game and not just getting her name in the paper." Well Madison finds a way to accomplish both winning and landing in the paper, even though the humble player's focus is always on the team's interests before hers. 
A vital part of her game, Schiller's composure and mental fortitude makes her an asset to the leadership of the program making the winning Coach Gordon's job much easier. When I went to Coach Gordon (who has recently reached her outstanding 300th win) with my article she was eager to help saying, "Madison is a tremendous basketball player. I'm the lucky one that gets to coach her. She really is a special player. Madison does a little of everything for our team. [Schiller's a] very unselfish player, she's as happy to make an assist to a teammate then shoot herself." Her stats for themselves, scoring her 1000th point as a junior and averaging 20 points a game. Some athletes may find that unbreakable hot streak characterized by a burst of success known as being "in the zone", but for this senior stud, this is her whole career leading Ramapo last year to be the Bergen County Team of the Year. Consistency is her best friend, and her drained three pointers and impressive vertical finding rebounds left and right would love to back this up. This is not the end for Madison Schiller, and her freshman year at Colgate only means the continuation of an already stunning basketball career.