Senior Spotlight Alex Horgan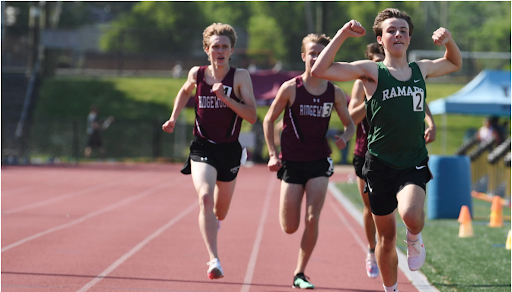 "In order to make dreams come into reality, it takes an awful lot of determination, dedication, self-discipline, and effort" – Olympic track legend Jesse Owens.
If anyone was to know the true meaning of hardwork and effort, it would be Ramapo runner Alex Horgan. Alex first joined the track team freshman year in order to get in better shape for soccer. However, falling in love with the sport, he committed himself to the track team, and what was once a mere hobby alongside soccer turned into a burning passion.
"I'm super competitive," says Alex Horgan, "so I love being able to be able to compete head to head with some of the best in the state."
Despite starting later than most premier track runners, Alex combined his grueling work ethic with his natural abilities to slowly but surely build up his reputation over the years. His overall appreciation for track also built up over his time at Ramapo, and now he is fully invested into the sport.
"I know running isn't everyone's favorite but once you get into it can be a lot of fun," says Alex. "In track, you're always going to see the results of all the work you put in which makes it special from a lot of other sports. It's up to you to get what you want out of it." 
Alex's reputation among the Ramapo track team and the New Jersey high school running community is not unwarranted as his progression up to his junior year has been astounding. Alex hit personal records his junior year, running 4:25 in the 1600m and 9:34 in the 3200m. He has also garnered numerous awards throughout his career here at Ramapo. Last season, he was First-Team All County and Second-Team All-North Jersey for the 3200m. Not only that, but Alex was also the 1600m champion his junior year. Not a stranger to taking up a challenge, Alex strove to be one of the best, causing him to break the school record for the 3200m and was the fastest in the county in last season.
Leading his team as one of the captains this season, Alex plans to guide the team and each individual to his/her best personal self.
"Practice just started, but we're going to have a pretty good team this year," says Alex. "On both the guys and the girl's side we're really well rounded so it looks like we're going to have a ton of success this season."
Over the last few years, Alex has been recognized by the team as grinder, someone who never quits in the face of adversity. His integral mentality to his success has led Alex to being a great teammate and leader amongst his peers. This building of character would not have come without the team, and Alex has the utmost thankfulness for that.
"I owe it all to my coaches and teammates along the way who helped me become the runner I am today," says Alex. "I especially want to thank Coach Nangle for believing in me. He's one of the best distance coaches around and the times his athletes produce on the track show for it."
Alex could not use any other word except "family" to describe the track team. His appreciation for Ramapo is also extremely apparent.
"I'm gonna miss how tight of a community Ramapo is," says Alex "Everyone is so close and always looking out for each other. You don't really get that anywhere else."
As of right now, Alex is in talks with numerous D1 coaches and plans to run in college. We here at Ramapo wish you the best of luck, Alex, and we will all miss you