NFL: Off the Gridiron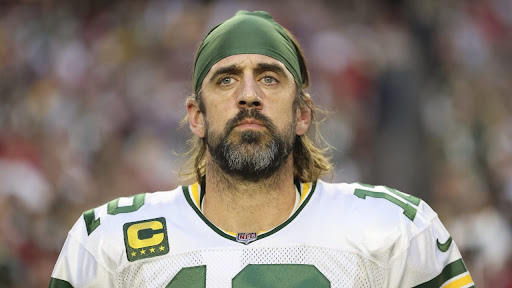 Unless you have been living under a rock, or strive to avoid the sports world in every possible fashion, then you know that the NFL is no stranger to extremely controversial matters. With Colin Kaepernick, O.J. Simpson, Aaron Hernandez, Tom Brady, and now Packers Quarterback and national treasure, Aaron Rodgers, there is a lot to unpack (no pun intended) around the NFL, on the field and in their personal lives.
First off, Aaron Rodgers finds himself in hot water with violations of the NFL's rules regarding Covid-19 regulations. As an alternative to not getting the vaccine, he led reporters on claiming that he had been "immunized", and the reporters accepted the answer with little thought. However, Rodgers had not received the vaccine because of allergies to ingredients in the Pfizer and Moderna vaccines and was very wary about the J&J vaccine due to previous health issues. In a lengthy interview with the New York Times Rodgers stated, "I'm not some sort of anti-vax, flat-earther. I believe strongly in bodily autonomy and the ability to make choices for your body, not to have to acquiesce to some sort of woke culture or crazed individuals who say you have to do something." Proving that Rodgers is not all bark and no bite, he has been very open about his alternative methods of becoming immunized and brought  500 pages of research to the NFL, in which they declined. All of this has come up after a positive coronavirus test leading to his quarantine in addition to a suspension for violation of the NFL's rules. 
In slightly older news, former Raiders wide receiver Henry Ruggs was arrested for various charges occurring from a car crash in late October. Ruggs was injured in the crash in which he was estimated at over 156 mph with a BAC of well over double (almost triple) the legal limit, with a loaded gun in the passenger seat. In a discussion about the incident with sophomore Owen Wilson, he replied with, "It's just crazy that someone can even get to that point. Honestly, it's just really scary how that can happen." The crash resulted in the death of a woman and her dog. Since then, Ruggs has been in and out of court frequently, with the NFL desperately trying to brush this incident under the "Ruggs" in order to preserve their name. The news of this case has fizzled out very quickly and there is not much talk about Ruggs as November passes, but one thing is for sure, the NFL will have its next controversial topic very soon.