A Star is Born: Mrs. Loccke Shines Bright on TCM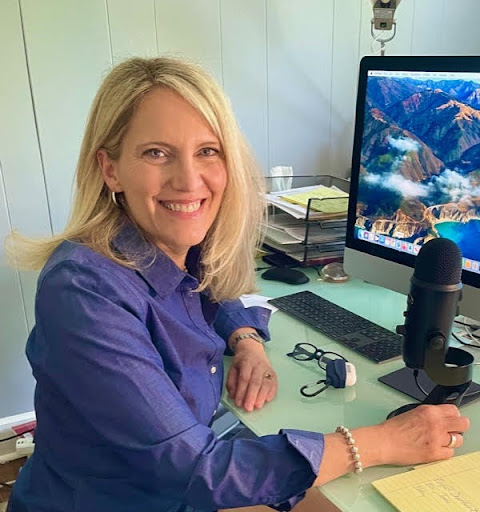 English teacher Mrs. Susan Loccke has always been a superstar at Ramapo. Recently, however, the world was able to bear witness to her brilliant intellect, entertaining wit and delightful personality when she was chosen to introduce three films on Turner Classic Movie channel (TCM). She was selected to share her perspective, passion, and insights about the movies prior to the films' screenings. 
Having teachers introduce films was TCM's attempt to pay homage to dedicated educators in recognition of their continued commitment to and support of the students in the face of the obstacles presented by COVID-19. Mrs. Loccke explained, "It was a tribute to teachers who had been through such challenges during the pandemic. Truthfully, that made me want to participate because I don't think many people realize how alone and miserable teachers felt in the pandemic." Mrs. Loccke and the entire Ramapo faculty deserve to be acknowledged for the herculean effort they put forth, and continue to put forth, during this unprecedented time. 
Mrs. Loccke's journey from English teacher to television star was serendipitous. Her cousin, an employee of TCM, connected her with the channel. After excelling during the interview process, she was able to choose the films she wanted to introduce. She selected A Streetcar Named Desire, A Raisin in the Sun, and Lord of the Flies. 
The filming occurred in Mrs. Loccke's home, using TCM equipment. She emphasized, "I was very, very nervous!" Her conversation with the host, Alicia Malone, was impromptu and not scripted or rehearsed. Mrs. Loccke recounted that the dialogue was, "totally off the cuff because I didn't know what she would ask me!" The segments aired in June and many in the Ramapo community tuned in to hear her interesting insights, albeit from the safety of our own homes. 
Mrs. Loccke is quite knowledgeable about the films as this is the fourth year that she is teaching "Film as Literature". The class members critique various aspects of the films including the director's decisions in editing, casting, and music. Mrs. Loccke asserted, "I love teaching students how to analyze film. Story is universal and is an integral part of being human. Film is a unique platform to deliver stories, that involves so many interesting elements such as lighting, sounds, mise en scene (an arrangement of scenery and stage properties in a play), actors, and camera angles that all help tell the story." 
In 2007, Mrs. Loccke secured a starring role in the award-winning cast that is the Ramapo faculty. She explained, "I find it very rewarding to work with high-school aged students because they are at such an important juncture in their lives. They can connect to the texts in deep ways, explore their creative potential, and grow so much in their thinking and writing. Also, high school kids are energetic, dramatic, and hilarious, which makes teaching them so fun." 
The TCM viewers got a glimpse of Mrs. Loccke's talents, but Ramapo students have the privilege of experiencing those talents every day. We always depend on the kindness she shows us. Mrs. Loccke, Hey Mrs. Loccke, we are proud of you!