Teacher of the Year 2021!
This year, math teacher Ms. Slovinski received the Ramapo High school Exemplary Secondary Educator of the Year award! Through dedication and years of teaching, Ms. Slovinksi was nominated by numerous parents, teachers, and students! 
Senior Kathryn Collins elaborates on how Ms. Slovinski has impacted her life as a student. "Mrs. Slovinski always has a smile on her face and is always happy to talk to students and always is in a positive mood. She continues to keep a smile on her face even when students are not the best at listening or saying hello. She always makes conversation and continues to stay hopeful. Mrs. Slovinski is a very honest and fair teacher. She has a very light mood that makes her easy to talk to. She always is very helpful and tries her hardest to make sure we all understand what is going on. She wants us to try our best and works hard to make sure we enjoy Calc AP AB. Mrs. Slovinski is also a very personable person and always wants to know what is going on and how she can make our senior year a fun year as well as a year where we all really learn and grow. She overall is a wonderful teacher."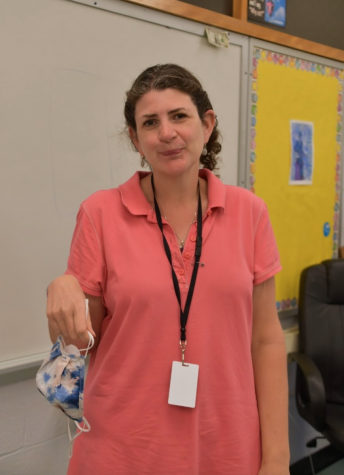 Here's what Ramapo educator, Mrs. Pappas had to say about Ms.Slovinski nomination. "I highly recommend and nominate Niki Slovinski as an exemplary educator in the RIH Community. Niki has made many positive influences and changes on my life, the math dept, her students, and the Ramapo Community. Niki has always and continues to hold the bar high in the math dept. She encourages all her students to do well and achieve success. Niki took on the challenge to teach AP Calculus. She attended workshops over the summer to be well prepared to teach the course at the level it should be taught. Niki provides as a model of excellence of mathematics to the math dept and to her students. For example, in March 2020, Niki went completely out of her comfort zone and created videos on Rational Equations, and shared with the dept. Niki was the Ramapo Building and TASC representative for many years. Her experience, expertise, and her dedication to her peers and to administration provided the best advice for all involved. From the academic areas, to the nursing staff, to the guidance area, to IT, to the support staff, to administration and assistants, Niki can always be counted on. She always has everyone's interest at heart. Niki spearheaded updating interim report comments for the hybrid environment. Niki volunteered her time to schedule COVID vaccines for her coworkers and their families. Niki booked appointments at 5 am for staff members and their families! She educated us on many of the the work-arounds to schedule appointments. Niki is always one to coordinate dept and coworker's birthdays, and celebrations. She is always very giving of herself to others. Niki is an ideal model educator for her students, for her math dept., for her coworkers, and the Community. She will continue to take on challenges and grow as a professional, inside and outside the classroom. For these reasons, and so many more, I highly recommend Niki Slovinski for Educator of the Year!"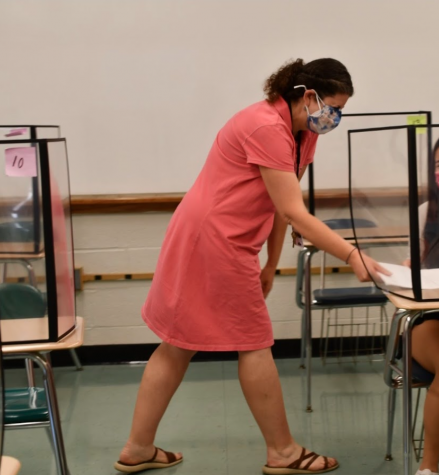 Another Ramapo teacher, Mrs. Sarracco shares her feelings on Ms. Slovinski. "Niki Slovinski is a hard working and dedicated teacher who goes above and beyond for her students and colleagues. . She is knowledgeable in her subject area and took on AP Calc in a year that was very difficult attending workshops over the summer to prepare. She is kind and considerate and in addition, she is active in our union and is always there for her colleagues. She serves on the TASC Committee, is our Building Rep. coordinated vaccine appointments for people that needed help and department/friend celebrations. There are a few people I really trust in this building and Niki is one of those people. I feel she is highly deserving of this award." 
Overall, Ramapo agrees Ms. Slovinski is an incredible educator, and is extremely deserving of this award!  Her hard work and devotion to the math department, and dedication to her students has definitely not gone unnoticed.
Photo Courtesy: Sophia Katsouris