What's your Favorite Holiday Song?
In preparation for the upcoming holiday season, millions of people across the world excitedly turn on the radio, steaming service, or any listening device to listen to their favorite holiday songs. An annual feeling of nostalgia is experienced when the radio is turned on and the same familiar classics are playing all day. Rampage asked the students and staff of Ramapo High School what their thoughts were on the classic tunes.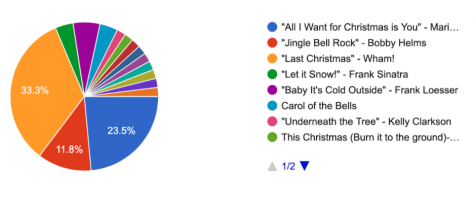 33.3% of participants found "Last Christmas" by Wham! to be their favorite song, followed closely by "All I want for Christmas is You" by Mariah Carey (23.5%) and "Jingle Bell Rock" by Bobby Helms (11.8%). "Baby It's Cold Outside" by Frank Loesser received 5.9% of the votes, and 3.9% of participants chose "Let It Snow!" by Frank Sinatra.
Most of the holiday classics are relatively older and were released decades ago. "Let it Snow!" was released in 1959 and "Jingle Bell Rock" was released in 1957. Yet, these songs continue to maintain high relevance and excitement every year during the holiday season.
Many respondents to the survey also submitted responses that were not included, preferring more modern songs, such as "Underneath the Tree" by Kelly Clarkson and "Santa Tell Me" by Ariana Grande. Lindsey Morrison, a Ramapo Freshman, said her favorite Christmas song came out this year and is called "Another Year" by Fineas: "His voice and the piano in the background are really nice and get me pumped for Christmas!" 
Rampage's survey is evident of the local love for holiday songs and the variety of songs people choose to listen to to get in a cheery spirit. As the holiday season continues, seasonal songs will continue to rise in popularity as they have every year for decades. 
What's your favorite holiday song?