The Assassination of Iran's Head of Nuclear Weapons Program Mohsen Fakhrizadeh
On November 27th, 2020, Iran's Head of Nuclear Weapons Program, Mohsen Fakhrizadeh, was allegedly killed by an Israel opposition group using a remote-controlled weapon. It was said that the attackers used various electronic equipment and that Fakhrizadeh's car was fired several times. Iranian officials believed that Fakrizadeh was "mortally wounded when his car was sprayed with bullets in the town of Absard, to the east of Tehran" (Mohsen Fakhrizadeh: Iran Scientist 'Killed by Remote-Controlled Weapon). 
Social media sources presented a map of blood and chaos along with a vehicle containing multiple bullet-riddles. Additionally, there have been reported witnesses that say they had seen three to four individuals carrying arms, appearing as terrorists on the scene. 
Iranian media claimed that the scientist was killed by a machine gun or unknown weapons controlled by a satellite. On Monday, it was later confirmed that this attack was entirely virtual. An Iranian official commented that "it was a very complex mission using electronic equipment"(Mohsen Fakhrizadeh: Iran Scientist 'Killed by Remote-Controlled Weapon). 
Apparently, Iranian officials even premeditated the attack and the plot to assassinate the scientist. Mr. Abodollahian, former deputy foreign minister who's job is to serve as an aid to the president of Parliament, said in a statement that "those involved in this assassination, some of whom have been identified by the security services, and even arrested, cannot flee from justice,"(Mohsen Fakhrizadeh: Iran Scientist 'Killed by Remote-Controlled Weapon). All of the people connected to the crime have been caught and arrested, but Iranian officials have revealed nothing about their identities thus far. 
American and Israeli officials say that Fakhrixadeh was considered a driving force to Iran's private nuclear weapons program. Israeli officials have not yet publicly come forward about the attack. It is also still unknown how much the U.S. might have been involved or known about this extensive operation. Many Iranian officials believe that there was definitely some form of U.S. involvement, but this is also alleged. 
Recently, Iran held Fakhrizadeh's funeral at the defence ministry in Tehran and his service was streamed live on state television, presenting the Iranian flag draped over a coffin and being carried out by troops and senior state officials. Many important Iranian intelligence officials attended this funeral as well.
Iran's Organization of Defensive Innovation and Research (SPND), General Amir Hatami stated that "the government would double the SPND budget in order to continue the path of the martyr doctor with more speed and power"(Mohsen Fakhrizadeh: Iran Scientist 'Killed by Remote-Controlled Weapon).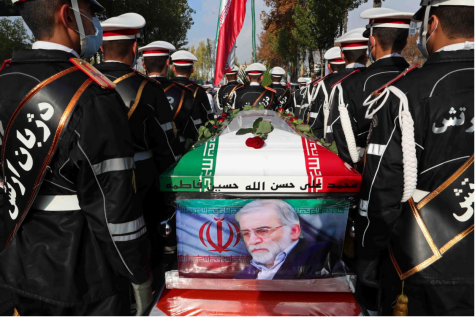 Fakharizadeh was believed to be a primary target because of his expansive work within Iran's nuclear program. He was involved in numerous projects, one pertaining to be building a potential nuclear bomb. Since the U.S reinstated its sanctions on Iranian nuclear powers and missiles as an attempt to negotiate some other form of agreement, Iran has been uncooperative and refuses to do so and has retaliated by breaching a number of its commitments to its deal with the U.S., one being its "stockpile of enriched uranium". Enriched uranium can be used to create the fuel needed to work nuclear reactors and bombs. 
With the looming threat of unknown nuclear projects being built throughout Iran, the argument of whether Fakhrizadeh's death was necessary or not is a controversial debate many people are considering today. One senior Israeli official told the NY Times that "Iran's aspirations for nuclear weapons, promoted by Mr. Fakhrizadeh, posed such a menace that the world should thank Israel"(Mohsen Fakhrizadeh: Iran Scientist 'Killed by Remote-Controlled Weapon). There are many different sides to an argument of such extreme nature and the important thing for people to understand is that researching and becoming educated upon a topic with so many layers to its story is crucial to formulating an opinion that can be backed up with evidence and is logically sound, not just jumping to conclusions.