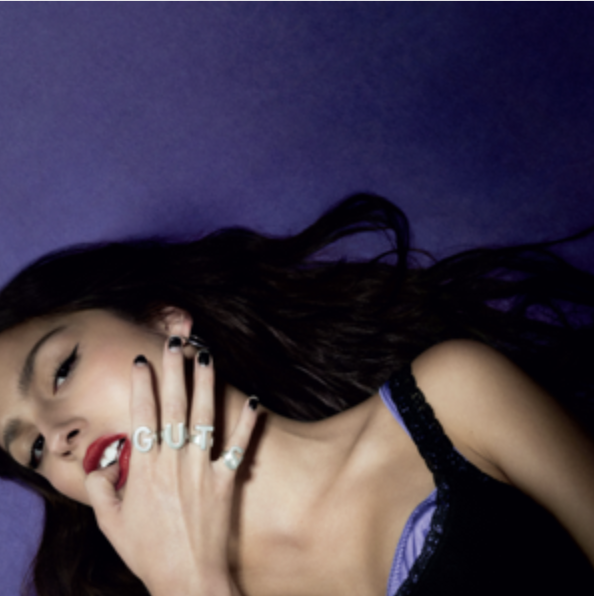 Olivia Rodrigo has been on a stage of success since the release of her first album, SOUR, in 2021. Expectations have been sky-high since she announced her single "Vampire" on June 13 and followed up with the announcement of her sophomore album, Guts, two weeks later. Fans  anticipated the drop of the tracklist with every post Olivia made, and truth be told, the album did not disappoint. 
GUTS is another instant hit and made the top 100 charts for music in just 24 hours.  Olivia's new pop-punk album is full of killer lines and awesome beats, but she pushes deeper with a song like "Logical". On her pop-punk freakout "Ballad of a Homeschooled Girl," she spirals over the various things she thinks are out of place for her: talking too much, picking the wrong guy, and wondering why girls can't seem to catch a break. 
Freshman Deanna Drob shared her opinions of the new album, "I myself am a huge Olivia Rodrigo fan and was up all night the night that GUTS premiered listening to it, and I have to say I was not disappointed. Olivia continues to blow minds with this album.  This album proves she definitely got more confident in herself and wasn't as afraid to express her emotions. I also see this album as her experimental album. SOUR has many songs that sound similar, while GUTS has a variety of unique styles in all of the songs. For example, her song "Making the Bed" is a calm, sad, quiet piece, while her song  "Get him Back!" is much more upbeat and rock and roll. Olivia continues to blow minds and everyone should go listen to her album right now because I promise you will not regret it."
According to CST counselor, Ms. Russo,  "The songs and the sound have  that coming of age, cinematic vibe. She knows her sound and she knows what works for her. She has matured and the album is great! I liked the vibe overall and the name guts because I feel like each song fits the name in different ways" 
If you haven't already stopped to take a listen head over to your local streaming platform and take a listen to GUTS. Trust us, you won't regret it.