Senior Spotlight: Amy Psota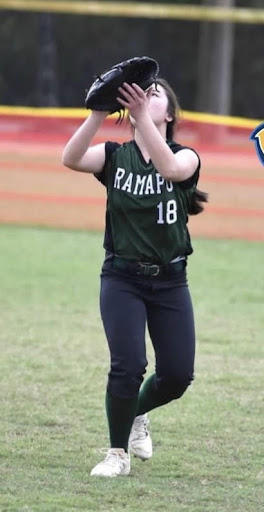 Being the only senior on the team, Amy Psota has played a crucial role in leading the Ramapo Softball team. Psota is both a vocal player and a supportive teammate. She is excellent at her position of center field due to her great vision of the game and her anticipation of where the ball will be hit next. Psota's life has always revolved around softball. She was inspired by her older sister, who played for Ramapo a few years prior, and by her father, who encouraged her to do the same. An excellent softball player, Psota has a lot of experience with the game, as she played for all four years at Ramapo, as well as for her club team – the NJ Vipers. 
She has achieved many accolades for her talents. In 2021, Psota was a member of the Bergen County Championship-winning team. Last year, she was named third team all-county and first team-all league for her successes throughout the season. Thus far, she has a career total of a whopping 62 runs and 70 hits. Ultimately, Psota will be depended upon to continue to show her dominance on the field and lead the team to many more victories.
Psota is the definition of a well-rounded student-athlete. Not only has she been a pivotal member of the softball team, but she has also spent all four years on the Ramapo Girls' Basketball team. Coach Gordon remarks that "Amy is a solid all-around athlete. She has always been a great teammate and leader for the underclassmen." 
Psota has left her mark on many of the underclassmen as a model for her athletics, team comradery, and positive attitude. She wishes the team the best of luck next year and offers some advice to her teammates: "Stay positive and work hard. Even when you want to quit and you feel defeated, just keep going. It is worth it in the long run." 
Next year, she will be continuing her academic and athletic career in softball at the University of Massachusetts Dartmouth. Congratulations on a successful season and good luck next year in college!