Decathletes Assemble!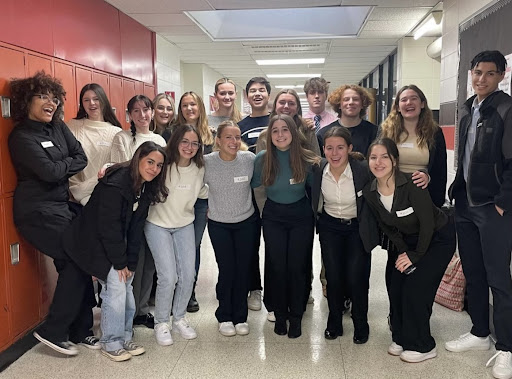 'Acadec'
For years, Academic Decathlon has been the premier academic competition for students across the United States since it was founded in 1968, US Academic Decathlon affirmed in 'The History of Academic Decathlon.' It is an extra-curricular program for high school students to continue their student success outside of just a transcript. 
The competition consists of tests pertaining to Science, Social Science, Literature, Art, Music, and everybody's two favorites, Math and Economics… no one likes those. All of these subjects have to do with the main topic, this year's being the American Revolution. In addition, the most daunting task is to memorize a prepared three and a half to four minutes speech. Starting decathletes will also be interviewed for roughly seven minutes, and must complete a timed essay according to one of three subject-based prompts given. Decathletes compete against similar students grade-wise, as there are three divisions: Varsity, Scholastic, and Honors. 
At the end of the day, teams gather together and do the 'Super Quiz'. This final component to the competition does not contribute to a team's overall score but grants some pretty hefty bragging rights in the Acadec universe. Divisions of each team will group together and answer questions in front of a crowd, hoping to get the most right out of the twelve they receive.
Veterans and Rookies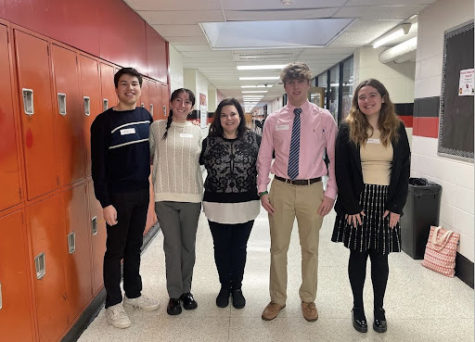 After last year's successful team's seniors departed Ramapo, coaches Ms. Noah and Ms. Davanzo were facing some new challenges: members. The senior class of '22 made up a big portion of the team and left some big shoes to fill. Appointed to Co-Captains were seniors Bryan Fortunato, Rebecca LeMoult, Daniella Caso, and junior Tristan Walder. Together with Ms. Noah and Ms. Davanzo, they recruited hard working Ramapo students who wanted to make a difference on the team; many of whom were underclassmen. The underclassmen group that joined placed a tremendous mark on the team, scoring medals in categories both at regional and state competitions. 
The Coaches
This year, Ms. Noah achieved her 25th year of coaching the team. This experience, along with that of first year coach Ms. Davanzo, proved to be key to all the decathletes' success. Coaches along with captains and social media managers help schedule and house team meetings across the weeks building up to the tournament. The biggest key to the team's success were the full days of studying in the Little Theater, where practice tests, speech practice, and most importantly, team bonding activities were held. The coaches not only planned out these meetings and celebrations but also kept each and every member proud and determined towards their hard work, serving as the team's biggest supporters. Upon being asked about the team's performance this year, Ms. Noah replied, "It was fun and refreshing to watch the team witness and get excited about the event. The team did great this year, and I fully expect them to build on their experiences for next year. I am so proud of every single person on the team, and I am excited to see their future successes."
Performance
What shocked many was the success the team had this year, considering all the first time members. At regional competitions, Ramapo earned the trophy for third place amongst roughly fifteen schools. For many of the starters, it was their first time ever competing! What was especially surprising was junior Cassie Tafuri Del Vecchio's gold medal in math. Arguably, math is the toughest section, and she won gold in the Honors division competing against the very best students of northern New Jersey. Upon receiving this honor, Cassie stated, "It was my first time competing at an in-person event after the pandemic and my first time competing as a starter. Once I heard that I won gold in math, I was ecstatic that all of my hard work studying and preparing paid off." It is clear that a lot of hard work and dedication went into that award!
In states, Ramapo did not place due to the high octane of competition this year. However, they tied for third in the super quiz, but lost in the tiebreaker. Even still, Ramapo proved something to everyone: even in a year of new beginnings, Ramapo will come to compete in Academic Decathlon. Looking forward to even better success next year!