Success at DECA's State Competition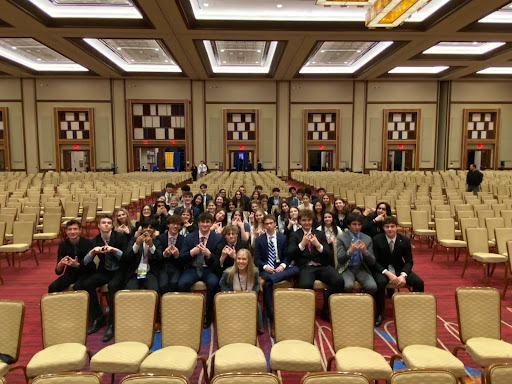 With the DECA State Career Development Conference ending in early March, 2023 continues to be a successful year for Ramapo Indian Hills' DECA club. The Ramapo Indian Hills DECA chapter sent over 60 students to DECA's States Competition. Among these participants were Ramapo students Gabe Tafuri Del Vecchio and Simrin Anand, who were able to place as finalists and will be competing at Nationals in Orlando, Florida in April. Congratulations! 
DECA's States Competition highlights the abilities of emerging leaders and entrepreneurs in marketing, finance, hospitality, and management in high schools throughout the state of New Jersey. "The competitors at this year's state competition were competing against the best and brightest students from the entire state of New Jersey," DECA advisor Ms. Fanale says. "I am incredibly proud and continually impressed by all of our participants and winners."
This year, sophomore Simrin Anand was successfully elected to the State Officer Action Team 63 for New Jersey DECA. Anand has assumed the position of Recording Secretary and claims to be "really excited to serve on the New Jersey DECA state officer board."
While he has put immense time and effort into his campaign, Anand also credits his peers in DECA for his success: "I would not have been able to do it without the help and support of the members of Ramapo DECA." 
With States completed, Ramapo congratulates all DECA competitors and wishes Tafuri Del Vecchio and Anand good luck as they compete in Nationals!