Tucker Carlson, Rupert Murdoch, and the Fox News Defamation Lawsuit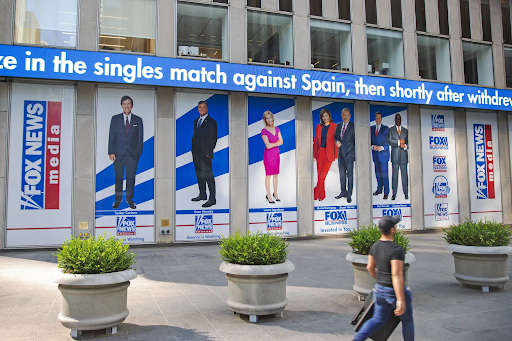 Fox News is one of the most popular and reputable news sources in the United States and is known for its unique and opinionated on-air hosts. The news source is notorious for denouncing the legitimacy of the 2020 election and elevating the voices of those who are "election deniers" (NBC). They also falsely identified two companies that provide voting software and hardware as the culprits behind Trump's loss (NBC). According to The New York Times, Dominion Voting Systems and Smartmatic, the companies identified by the Trump legal team, are suing Fox News in cases that pose severe financial risks to the network. 
In a report published by CNN, Dominion is seeking $1.6 billion in damages and additional punitive damages, claiming Fox News knowingly promoted lies that it helped rig the election against Trump. Smartmatic is demanding even more in its separate defamation suit. Defamation suits against media outlets are extremely difficult to win. AP Government and Politics teacher Mr. VanDerMolen said, "the First Amendment and the landmark New York Times v. Sullivan Supreme Court ruling gives Fox expansive leeway to broadcast its views."
However, the ruling and Constitutional law somewhat limit the free speech of media outlets, leading some to believe Fox should not be protected. Fox News said in a statement to CNN that Dominion had "twist[ed] and even misattribute[d] quotes to the highest levels of our company" as part of a "campaign to smear" the network, and it warned the suit could have "grave consequences for journalism across this country" (CNN). Dominion's complaint argues the network knowingly advanced the lie that Dominion had "committed election fraud by rigging the 2020 Presidential Election." As part of the litigation, Dominion obtained troves of documents detailing how Rupert Murdoch, owner of Fox News, and Fox News hosts privately rejected those conspiracy theories over text, email, and in testimony but promoted them on the air anyway (New York Times). 
In internal emails, Murdoch called the election-rigging claims "really crazy" and "damaging," but didn't intervene to stop the network from pushing them. Host Tucker Carlson texted a producer that "there wasn't enough fraud to change the outcome" of the election and that Powell was "lying." Anchor Dana Perino called the conspiracy theories about Dominion "total bs," "insane," and "nonsense." In a deposition, Hannity admitted that he did not believe Powell's claims "for one second" (CNN).
Nevertheless, Fox executives and hosts knew baseless claims of election fraud were what their viewers wanted to hear about and took aim at their own journalists. Murdoch said to The New York Times, "I hate our Decision Desk people!" after the network called Arizona for Trump before any of its competitors, drawing the immediate ire of Trump. Host Laura Ingraham and Carlson blamed the news division, which was generally more skeptical of those touting false election claims than the opinion hosts, for declining ratings. "You don't piss off the base," Hannity texted host Steve Doocy after claiming that the news division had "destroyed [them]" (NBC). 
Fox may have a lot of money on the line in this lawsuit. Even if Fox loses the trial, the impact on its business will be far from clear. We don't yet know exactly how big a penalty the jury and judge would approve, and an appeal on First Amendment grounds would be highly likely.
Ramapo Senior Ava McCann wonders "how the confidence of Fox's audience in the network will be shaken by these revelations." Well, Fox itself has been ignoring the topic, so it is unclear how these revelations are influencing the confidence of the network and its viewers.
But generally, Trump's and his allies' confidence in Tucker Carlson hasn't been shaken by the revelations that he privately trashed them. They've focused instead on his public work — like his recent report pushing a revisionist history narrative that the January 6 attacks were overblown.