Slam Dunking on the Record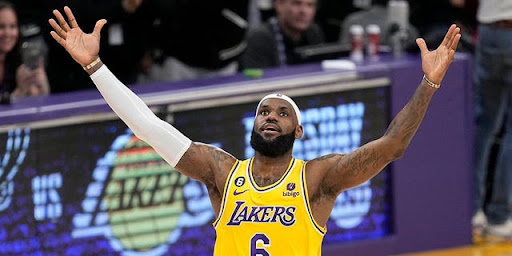 The NBA has a rich history of great players, and over the decades, many of them have set astonishing records. One of the most coveted records was the all-time scoring record, held by Kareem Abdul-Jabbar, with 38,387 points. As with any record, however, it was only a matter of time before it was broken. Little by little, point by point, the NBA has come to realize the possibility of this record being broken. The player who made this happen is none other than Lebron James.
Lebron is a household name in the world of basketball. He has won four championships, four MVP awards, and has been named to the All-NBA First Team 13 times. He is one of the most dominant and well-respected players in the league today, and has been chasing Kareem's record for years. Currently, Lebron is in his 20th NBA season and has acquired over 38,390 points (Olympics.com) This puts him over Kareem by a whopping 63 points, and with several years left in his career, he'll have the chance to score even more. 
Alex Batarseh, a fellow student at Ramapo, discusses his thoughts on the topic. He states, "I found it very surprising when I first heard that Lebron James was going to surpass Kareem in scoring. I watched the games where he could have broken the record, and when it finally came, I felt very happy for him because of all he achieved throughout his career." Lebron has always been known for his scoring ability. He is a versatile player who can score from anywhere on the court, whether it's from the perimeter or in the paint. He has a great understanding of the game and knows how to get himself in positions to score. But his breaking of Kareem's record was not just about scoring points. It took longevity, consistency, and a relentless work ethic. Lebron has proved that he possesses these qualities.
Mr Wadhams, a physics teacher at Ramapo, shared his thoughts on the matter. He agreed that James is a very talented athlete, but shared his thoughts on a recent movie; Space Jam: A New Legacy, which featured Lebron James. "His part in Space Jam 2 was awful." Lebron takes great care of his body, with a strict diet and workout regimen. He has also been fortunate enough to avoid serious injuries throughout his career, which has allowed him to play at a high level for longer than most players. The real question still remains, however – Is Lebron better than Jordan?