NFL Combine Recap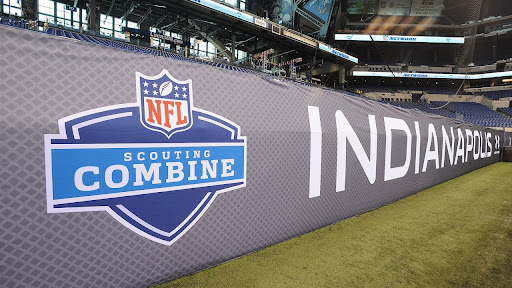 The NFL Scouting Combine occurs every winter. It is perhaps the most anticipated and coveted event of the NFL's offseason calendar. The combine is an invitation-only week-long showcase of elite-level NFL prospects. Players can choose to participate in athletic testing such as the 40-yard dash, a 225 bench press test, and various position-based drills. They also receive official measurements; height, weight, arm length, and hand size. Even more important to a player's draft stock are the interviews with specific teams, where NFL coaches and administrators are allowed to meet one on one with whatever player they choose. All workouts and interviews are held at Lucas Oil Stadium, the home field of the Indianapolis Colts, and were previously held at the RCA Dome, the stadium that Lucas Oil replaced in Indianapolis, Indiana. 
Combine workouts were kicked off on March 2nd when defensive linemen and linebackers took the field. One of the biggest standouts from this group was Georgia outside linebacker, Nolan Smith. Despite measuring undersized for his position (6' 2'' 238 lbs), Smith impressed football fans everywhere with a blazing-fast 4.39 40-yard dash (1.51 10-yard split) and an outrageous 41.5'' vertical jump (NFL.com). Northwestern defensive lineman Adetomiwa Adebawore also impressed fans by running a 4.49 40-yard dash at a whopping 282 pounds! (NFL.com)
The second day of workouts on March 3rd featured safeties, cornerbacks, and special teamers. Among the standouts was Michigan cornerback DJ Turner who ran a 4.26 40-yard dash, the fastest of any player this year. Maryland cornerback Deonte Banks ran a 4.35 40-yard dash, jumped 42'' on the vertical, and 11' 4'' on the broad jump, solidifying his position as a probable first-round selection (NFL.com). Top prospects like Brian Branch of Alabama, Cam Smith of South Carolina, and Christian Gonzalez of Oregon all looked smooth during positional drills, while Kelee Ringo of Georgia hurt his stock with his stiff hips and poor ball skills. 
The third day was for quarterbacks, wide receivers, and tight ends. Nobody boosted their draft stock more than Florida quarterback Anthony Richardson, who displayed his generational athleticism and arm strength. As a highly raw prospect, Richardson sent shockwaves around the NFL world. He ran a 4.43 40-yard dash and set a combine record for QB's in both the broad jump and vertical jump (10' 9'' and 40.5'' respectively). His arm strength was also on full display, slinging the deep ball with ease (NFL.com). Ohio State quarterback CJ Stroud looked sensational in the passing drills, showing off his lightning-quick release and precision accuracy. While top three prospect and former Heisman winner Bryce Young of Alabama did not participate in any of the field drills or athletic testing, he walked away as a winner, measuring in at  5' 10'' 204 lbs. While this is extremely small for an NFL quarterback, many believed he would weigh in at more of the 185-190 lb range (NFL.com). Young is truly an anomaly as far as top quarterback prospects. Ohio State wide receiver Jaxon-Smith-Njigba showed out in the agility tests, recording a 3.93 20-yard shuttle and a 6.57 3-cone drill, both the quickest in the class (NFL.com). However, "JSN" opted out of the 40-yard dash, which many people suspect is due to his lackluster top speed. Georgia tight end Darnell Washington also put on a show, running a 4.64 40-yard dash at 6' 7'' 264 lbs and making a spectacular one-handed circus catch on a corner route (NFL.com).
Rounding out the combine were the offensive linemen and running backs on the 4th and last day of workouts. Texas running back Bijan Robinson, whom many scouts believe to be the best running back prospect since Saquon Barkley, had confirmed that status by performing well in all of the athletic tests and showing his elite change of direction abilities during positional drills. Many students and teachers at Ramapo High School like junior Nicholas Stathakis pay close attention to the combine. He states, "I love the NFL Combine because I get to see all of the future stars of the NFL. It's fun to see where they end up in the draft and how their testing affects their stock." Others seem less inquisitive about the combine like physics teacher Mr. DeSalvo. He remarks, "I didn't hear about it. What is it?" Perhaps Mr. DeSalvo is more interested in the NBA.