Maddie Kellogg: Women in Sports Day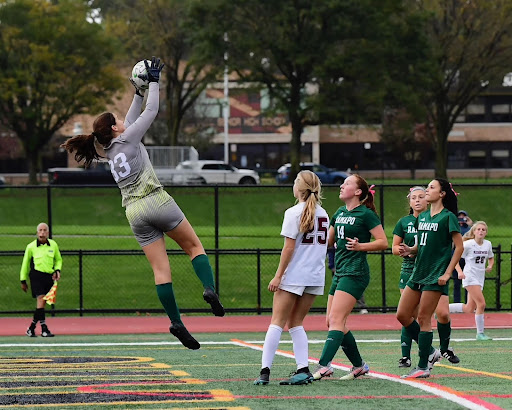 Maddie Kellogg has been selected as Ramapo's recipient of the National Girls and Women in Sports Day for New Jersey. The New Jersey Association for Intercollegiate Athletics for Women (NJAIAW) will be recognizing Kellogg for her profound success as an athlete by inviting her as a guest to a Seton Hall University Women's basketball game. Kellogg is a well-rounded student-athlete, as well as a leader and positive presence. She has been a member of the varsity soccer team for all four years of her high school career. Kellogg was named MVP (Most Valuable Player) for her performance at the Group III State Final soccer game at Kean University. She led the team to victory by saving the final penalty kick after a double-overtime game against Cherry Hill West. As captain, Kellogg has been an excellent role model to her fellow teammates and underclassmen. 
Maddie playing goalie for the Ramapo Girl's Soccer Team (Photo Courtesy of Maddie Kellogg). 
Kellogg has been a multi-varsity sport athlete all throughout high school. While soccer is her main sport, she has also spent four years on the girl's basketball team. She was always a pivotal member who could be depended upon to showcase her talent and skill whenever the team needed it. Additionally, Kellogg has been a member of the newly established girl's flag football team. Her overall athleticism has made her the perfect candidate for the position of quarterback.
Besides being an all-star athlete, she is also a very devoted student. She has been a member of the engineering university program (UP) here at Ramapo and has also been able to excel in many AP courses. Kellogg states, "Next year, I will be attending Carnegie Mellon University to continue playing soccer, as well as furthering my academics in studying biology." 
Ramapo AP biology teacher, Mrs. Angerson, discusses Kellogg's strengths as a student. She states, "I am so proud of Maddie for receiving this well-deserved recognition. The New Jersey Association of Intercollegiate Athletics for Women should also know that, although AP Biology is (usually) not a sport, her drive and perseverance are also apparent in the classroom! She can 'catch' and 'throw back' an answer as quickly as she can stop a goal from being scored, and she does it all with a spectacular sense of humor."
Congratulations Maddie on this accomplishment. We can't wait to see all that you achieve in the future!