Rihanna's Stellar Halftime Show …. Plus a Shocking Announcement?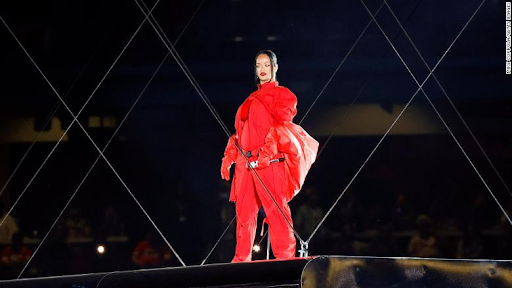 Rihanna's halftime performance at the Super Bowl LVII has fans mesmerized. Dressed in a stunning red jumpsuit paired with bright red lipstick, Rihanna lit up the stage alongside her backup dancers, who wore white puffer jackets. Rihanna sang some of her top hits, including "Rude Boy" and "Where Have You Been", totaling twelve songs in just thirteen minutes. Between the floating platforms and energetic dancers, the production was extremely entertaining for all viewers. Some even label the Super Bowl halftime show: "a Rihanna concert interrupted by a football game." 
It was not just the music that the fans were raving about, however. Rihanna's half-zipped jumpsuit revealed her visible baby bump. Immediately, word began spreading that the queen of pop was pregnant again! Rihanna had just given birth to her first son in May 2022 with her husband, rapper A$AP Rocky. Sophomore Lucy Balaam commented: "I love that for her. Good for her for doing the halftime show while pregnant. Rihanna and her music are iconic."
She admitted during a press conference in Phoenix her nerves going into the performance after taking a step back from the music industry for seven years (Reuters). Regardless, the thirty-five-year-old pop star put on an unforgettable show. Ramapo High School sophomore Jude Lamki said, "Rihanna looked awesome at the show! I especially enjoyed the backup dancers and their outfits." While many loved the show, others had differing opinions. Ramapo English teacher Ms. Davanzo says, "I thought the Super Bowl Halftime Show was average, which was a shame, since it was highly anticipated! I like Rihanna, and she sounded great, but I kept expecting her to change her outfit or break out some new dance moves. It was OK, but it was just OK."
While Rihanna's appearance on one of the biggest national stages has sparked excitement and gossip of her potential return to music production, others say the Super Bowl was her "grand exit" toward retirement. Whether she continues to release music or not, Rihanna will always be an icon in the American music scene. She has inspired multiple generations with her pop music and created an indestructible name for herself. Rihanna's hits can still be heard streaming on popular radio stations today and will continue for many years to come.